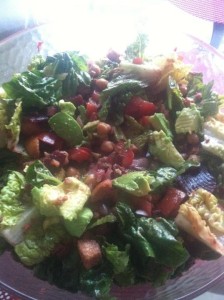 Hi Everyone,
This delicious recipe comes from Rose, on the West Coast of the USA. She call's it a Vitality Salad, and she sent me an amazing breakdown of the health benefits of each of the ingredients. Rose is on a fitness, lifestyle and health bender. She is changing her life for the better, and will soon be documenting that in her very own blog. Currently you can follow her at: Blossoming Rose
Rose credits meals like this for her glowing skin, and youthful appearance. When you check out her picture below I think you'll agree there is something to what she is saying!
Rose recommends her favorite dressing below. If you're up for trying something new, try squeezing a bit of fresh lemon juice over your salad. It's delicious and refreshing! I'm also a big fan of plain balsamic vinegar. Often I eat salads "plain" I put so many delicious things in my salad that dressing becomes unnecessary.
The recipe is below!
Melissa
PS Beets are one of the only vegetables that I don't like. I would replace that ingredient with some red grapes, or possibly some mushrooms. However, if you're a fan of beets they do have some really great health benefits you will read about below!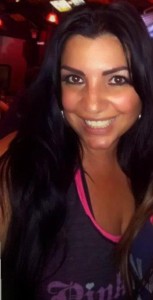 Rose
FRESH SPINACH LEAVES:
Spinach is extremely healthy and high in Potassium and Vitamin A among other minerals and vitamins. The high amount of vitamin A helps promote healthy skin by allowing proper moisture retention to the skin and even helps fight wrinkles. The vitamin C, vitamin E, beta-carotene, manganese, zinc and selenium present in spinach all serve as powerful antioxidants that combat the onset of osteoporosis, atherosclerosis and high blood pressure.
ROMAINE LEAVES:
Packed with protein,calcium, potassium, fiber, B vitamins, omega 3's, and more vitamin C than an orange. I eat Romaine daily.
THREE ROMA TOMATOES:
Loaded with potassium, vitamin C,vitamin E, vitamin A. An anti-inflammatory food with carotenoids and bioflavonoids. Vegetables with beta carotene help add the natural glow to your skin as well as keeping your body healthy from the inside out.
1 RED ONION:
Red onions have a higher concentration of flavonoids in the outer layers, which, according to a Cornell study, can help reduce the risk of cancer, heart disease, and diabetes. Red onions also contain the brain-boosting flavonol quercetin, keeping your memory in tact.
1 CAN LOW SODIUM GARBANZO BEANS OR RINSE BEFORE SERVING:
Protein, soluble and insoluble fiber,manganese,folate, iron. Need I say more?
FOUR BEETS SLICED, I PREFER TRADER JOE'S:
Beets are one of the most highly nutritious and "heart health" friendly root vegetables. Certain unique pigment antioxidants present in root as well as top greens have found to offer protection against coronary artery disease and stroke, lower cholesterol levels in the body and have anti-aging effects.
*Keep in mind in you have gallbladder or kidney problems you may wish to speak to your doctor before making beets an integral part of your diet. Beets (notably beet greens) are among a small number of foods that contain measurable amounts of oxalates, naturally occurring substances found in plants, animals, and human beings. When oxalates become too concentrated in body fluids, they can crystallize and cause health problems.
1 AVOCADO:
Very high fiber, potassium, 18 essential amino acids, cartenoids, omega 3's. Helps reduce the bad cholesterol in your blood. Do not avoid this gem of a fruit, or is it a vegetable? Either way it is a nutrition grand slam.
Whatever protein you like, my husband adds grilled chicken to his salad. You may add grilled salmon, tuna or soy. The options are endless.
EXTRA'S
A good all natural balsamic dressing, I prefer Trader Joe's
You can always indulge with just a hint of high quality cheese. I love gorgonzola cheese or feta in small amounts. Keep in mind the portion control with cheese if you decide to add it in. A little goes a long way and cheese is high fat/sodium.
DIRECTIONS:
This salad is very simple. Just take equal parts spinach and romaine and toss in a large salad bowl. Add the diced roma tomatoes and red onions to the salad. Then add a full can of the garbanzo beans, or less if you prefer. At this point I take the balsamic dressing and dilute half of it with balsamic vinegar. This reduces the fat and the sodium content. You can also make your own with extra virgin olive oil and balsamic vinegar if you like. I just love the flavor of Trader Joe's Balsamic Dressing so that is my choice. Then I add the sliced almonds and toss again. I do not add the avocado or beets until the very end. Beets are delicious but will overpower the salad if you toss them in. At the very end you may add your choice of protein and cheese. My husband loves this salad. Sometimes I roast a few red or purple potatoes and toss them in as well. Warm some whole grain pita and you have a well rounded meal.
They say to have natural glowing skin you should eat a variety of colorful fruits and vegetables. I believe this works, and I think my skin is a prime example of health. I eat about 9 servings of produce a day. Don't forget to drink tons of water. I also love to drink a natural coconut water after yoga class, so refreshing.