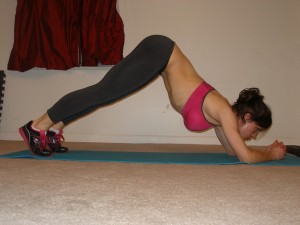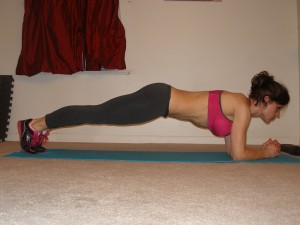 Hi Everyone,
This workout just did not want to upload! I finally got it. 😀
As the title shows, this one is all about shaping your butt and abs. It helps keep everything tight, toned and shapely. Also, the interval style of the workout really increases the intensity. Pair it with cardio and you have a really nicely rounded workout.
I ran a mile in between the two 5 minute rep portions of the workout. It took me 6 minutes and 58 seconds, so it was a nice hard working pace for me.
I went through the repetitions twice.
I will have new workouts for you this weekend, so be sure to check back!
Melissa
All Levels: As many reps as possible for each minute of exercise. The numbers in parenthesis are the number of reps I managed for each exercise my first time through. I was talking the second time, so I didn't count for that round.
1. Plank Lift (I did 28)
2. Plank Leg Lift (alternating legs) (48)
3. Heel Pulse (86)
4. Bridge Pulse (67)
5. Bicycle (107)
CARDIO: I ran a mile, other alternatives are 10 minutes of jump roping, or one of the cardio workouts in the cardio tab above. Riding on a stationary bike, high knees, and jumping jacks are other great options.
1. Rib Push (46)
2. Leg Lift/Hip Lift (20)
3. Oblique V-up (right) (27)
4. Oblique V-up (left) (26)
5. Butterfly sit-up (14)