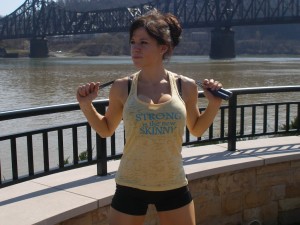 Hi Everyone,
I have been having technical difficulties uploading my video to youtube for the last two days, so this is my first time uploading a video directly onto my blog.
I love the new shirt I am wearing in my video. I bought it on etsy from Nutrition Snob. She did a great job, and customized the order so it was made the way I wanted it. Click on her name if you want to check out her other products.
Yesterday was a busy day for me. I woke up, and walked 5 miles while reading on the treadmill. I lost track of time while waiting for Jesse to wake up. When Jesse woke up we went for a 3.5 mile run at a nice light pace. We also went down near the river and filmed the workout video below. Then, in the evening Marie asked me to do a light run with her. I would put that run right around 2 miles.
I feel great today, not sore at all so I didn't push myself to hard. There will be a new workout up later today so check back. In the mean time, enjoy this full body workout!
Melissa
Beginner: 10 reps, 30 seconds timed
Intermediate: 15 reps, 45 seconds timed
Advanced: 20 reps, 60 seconds timed
Equipment I use: Jump Rope (but you can substitute high knees)
1. Jump Rope (timed)
2. Surfer Burpee
3. Plie Heel Pulse (timed)
4. Round Kick (right)
5. Round Kick (left)
6. Jump Rope (timed)
7. Frog Jump
8. Chair Pulse (timed)
9. Squat Crunch (right)
10. Squat Crunch (left)
11. Jump Rope (timed)
12. Oblique Reach (left)
13. Oblique Reach (right)
14. Jump Ups or Jump Squat
15. Supergirl Pushups