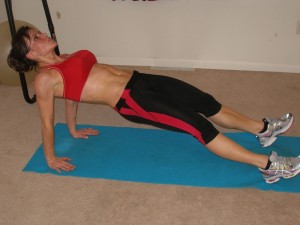 Hi Everyone,
As you can see in the picture above (and in the running shots from the video) this workout had me seriously sweaty! I filmed the video and then did the workout, and Jesse decided to get some shots of my cardio bursts in between. 🙂
Jesse did this workout with me, so we alternated 5 minute intervals, and 5 minute cardio on the treadmill. He started out running, and I started out with the reps. You can do it either way, I promise you will feel it! 
The entire workout takes 30 minutes (including the cardio) if you are doing it one the advanced level. Obviously I was running on the treadmill (8.5 or 7 min. miles), but you can also jump rope, do high knees, jumping jacks or split up one of the cardio burst workouts. 
Try it out, and let me know what you think!
Melissa
Beginner: Max reps during 30 second intervals, 3 minute cardio bursts 
Intermediate: Max reps during 45 second intervals, 4 minute cardio bursts
Advanced: Max reps during 60 second intervals, 5 minute cardio bursts


1. Small Plie Jumps
2. Standing Leg Series (left)
3. Standing Leg Series (right)
4. Forward/Backward Lunges (left)
5. Forward Backward Lunges (right)


Cardio Burst 1


1. Heel Tap Abs
2. Leg Circle (left)
3. Leg Circle (right)
4. Bicycle Abs
5. Up/Down Dog


Cardio Burst 2 


1. 3 Way Mountain Jump
2. Side Plank Leg Lift (left)
3. Side Plank Leg Lift (right)
4. Spiderman Pushups
5. Flip Flops


Cardio Burst 3