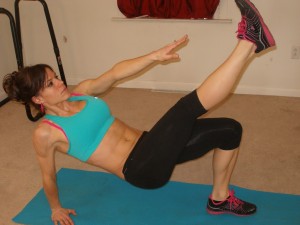 Hi Everyone,
Today's workout focuses on fat burn, and strengthening your abs/core. If you find some of these moves difficult don't let it get you down! Whenever I find a workout move that is a big challenge for me I find myself adding it into my workouts more often. I was thinking about this while I was doing the three-way mountain jumpers because I find them especially tough. I was thinking "Argh! Why did I put this in yet another workout! I hate these!" and the answer is that anything that is difficult I want to get better at.
So if you find something especially challenging please don't give up, or avoid it. Rise to the challenge and continue to do it until you get better at it! That doesn't mean you can't modify the activity on the way up (in fact that's the wise thing to do!), but continue to try and work toward your end goal.
With that said, enjoy the workout! Be sure to push and challenge yourself to your individual level. This is a major fat burner, and it strengthens an area of your body, the core, that is imperative to any other workouts you will do.
Have a great day!
Melissa
All Levels:
Maximum number of reps you can do within each 50 second interval. You get 10 seconds of rest between each exercise.
*I went through this workout twice, and followed it with a cool down walk on the treadmill for 15 minutes.


High Knees
Plank Arm Lift
Jump Squat
Crab Reach
3-way Mountain Jumpers
Weighted Russian Twist (you can do this without a weight as well. My weight was 10 pounds)
Lunge Kick (right)
1,2,3 Abs
Lunge Kick (left)
Pulsing Leg Stretch
High Knees
Ball Rotations