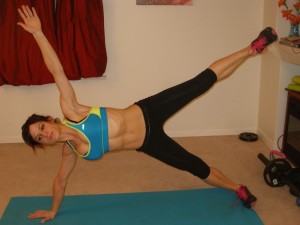 Hi Everyone!


This was my workout tonight. On top of this I ended up walking hills on the treadmill for 20 minutes. I was waiting for Jesse to finish his run, so I did some reading on my kindle while I walked.


Changing up my workouts every day keeps them interesting and challenging for me. I get bored, and my body adjusts quickly if I do the same workout all the time. This doesn't mean that I never repeat a workout, but it's fun to keep the challenges fresh.


I am also creating some new fitness goals for myself this year, which I will be sharing in a blogpost soon. If you have any goals you'd like to share, post them in the comments below. I also like to hear what other people do to keep their workouts fresh.


Have a great night!
Melissa



Beginner: 10 reps, 30 second timed
Intermediate: 15 reps, 45 timed
Advanced: 20 reps, 60 timed


(My total time was 24:20 on the advanced level).


Jump Rope (high knees) (timed)
Mountain Climbers (timed)
Side Plank Reach/Knee (right)
Side Plank Reach/Knee (left)
Decline Pushup with Ball Pull
Ninja Jumps
Jump Rope (regular)(timed)
Tick Tock Abs
Weighted Jump Squat
Ball Leg Series (right)
Ball Leg Series (left)
Runners Lunge to Warrior 3 (right)
Runners Lunge to Warrior 3 (left)
V Pulse Abs (timed)
Jump Rope (timed)