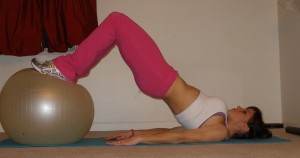 Hi Everyone,
Tonight I did this exercise challenge and a run. It was absolutely gorgeous outside so I took advantage of it and ran 3.49 miles. Something about warmth and sunshine just energizes me!
It seems like every day closer to spring brings me more energy. Today I had some extra time, so I worked out hard. The challenge was tough. For me the hardest exercise was the ball pull, but I am glad that I got through it. 
I made a delicious vegetable and shrimp curry stir fry for dinner to top of my healthy day. I will post pictures of it later tonight. It was delicious, and full of spice and flavor (a good combination for both food and life!)
Anyway, enjoy your evening! May something motivate and inspire you today!
Melissa
1. Squats
2. Warrior 2 Lift (right)
3. Warrior 2 Lift (left)
4. Ball Pull


Repeat 4X