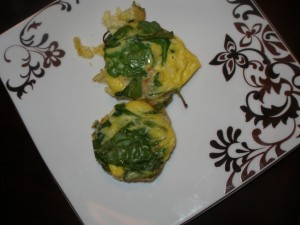 These Egg Muffins are delicious, and super easy to make! Someone shared this recipe with me today, and I didn't have all of the ingredients to make it, so I improvised with a few ingredients and the results were AMAZING! Also, these can be made in bulk and frozen! Pop them in the microwave for a minute, and you have a healthy snack or meal on the go!
Also, I added the veggies that I had on hand, but feel free to experiment! I made a dozen egg muffins.

Pre-heat the oven to 350.
Ingredients:
I used 7 eggs, but for a larger batch use a dozen
Original Almond Milk (about 1/4 cup)
Cheese: I used a little less than 1/4 cup of tomato basil feta
Sliced fit and active Turkey Breast (4-5 slices, hand shredded)
About 4 cups of fresh baby spinach
Zucchini: fresh grated, I didn't measure, but aprox. 1/4 cup
a dash of fresh ground pepper, and fresh ground sea salt
Mix all of your ingredients together in a large bowl.
Spray a muffin pan lightly with Pam Olive Oil cooking spray.
Scoop the ingredients into the muffin pan until the cups are about 3/4 full.
Bake in the oven 15-20 minutes, until a fork goes in and comes out clean, or until the tops are lightly browned.
Take them out and enjoy! Freeze the extras so you have healthy options to go!
In the future I am going to add mushrooms and broccoli, and serve it with a couple of fresh tomato slices. I may also try it out with veggie "cheese" slices instead of the feta, although the feta added an amazing flavor.
Easy, delicious, and healthy! What a great combo!