Hello Everyone,
Welcome to today's workout! I have another Resistance Band workout for you. This is a fantastic, full body workout with resistance bands. If you don't have bands, don't worry! You can incorporate dumbbells and/or body weight during this routine. You will find the full length home workout video below.
Remember, there is always a way to modify a workout. I really enjoy switching up workout techniques, so the addition of bands has been fun. Plus, I love that exercise bands make it easy to workout while traveling, exercise in hotels or anywhere you go.
If you haven't had a chance to try Resistance Band Workout #1, you will find the link below. I definitely recommend giving it a try.
Resistance Band Workout #1: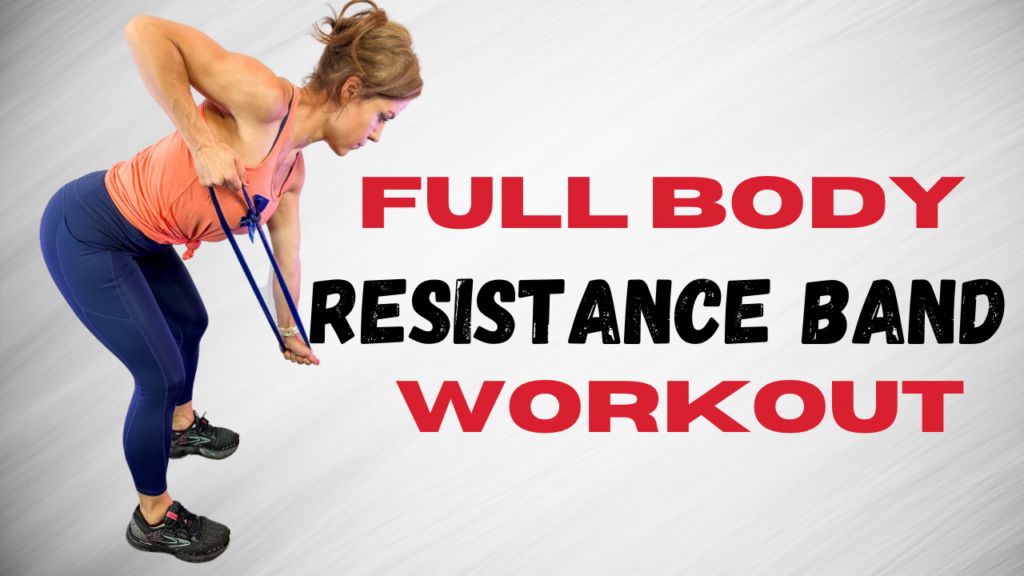 Benefits of Resistance Bands
I've been using resistance band exercises with my patients for years, because it's a great low impact option to improve muscle activation and build strength.
Resistance bands typically don't cost a lot of money, and they are easy to travel with.
Require more stabilization and core activation during exercises.
Can improve mobility and stretching.
You can apply resistance through a full range of motion.
They can be a great option for people with decreased grip strength or carpal tunnel syndrome.
I personally like to use resistance bands as part of my training routine, in addition to dumbbells, but they are a great inexpensive option to add resistance into your home workout program without breaking your budget. If you travel regularly, it's a great way to take your workout with you.
Challenge Yourself
This is a great workout to repeat. Aim to get in 2-3 Rounds to really maximize the burn, or pair with with some cardio. Don't be afraid to challenge and push yourself. It's important to move outside of your comfort zone, and allow yourself to be uncomfortable. Reminder: uncomfortable isn't the same as hurting yourself. Discomfort during exercise generally allows us to push our boundaries and grow. Pain is different. We don't want to cause injury. Learn how to recognize the differences between pain and discomfort.
I need to start challenging myself more (again). I enjoy challenges and making progress. Whether I am working toward a specific goal or not I consistently workout because my health is important to me. I don't need a set goal to stay in motion. That said, I've been working out for the health of it for a while now. It's time to start amping up the challenge and trying something new.
I've shared some new challenges in my Member's group. Right now we are working through the Fit at Home Challenge (schedule below). I'm excited and ready for what the next challenge brings.
As I continue to build up my membership program, I would love to hear from you: what would you most like to see as part of my membership? What would bring more value to your health and fitness routine?
I will continue to share free workouts here, but building my membership program is what allows me to do that.
Have fun with today's workout! I hope you enjoy it and finish the day feeling strong and healthy.
Melissa
Exclusive Workouts & Bonus Content Membership: https://www.MelissaBenderFitness.com
Amazon Storefront: https://www.amazon.com/shop/benderfitness
Workout and Fitness Equipment: https://www.amazon.com/shop/benderfitness/list/8NHLHDO83ACD?ref_=cm_sw_r_cp_ud_aipsflist_aipsfbenderfitness_HXSW8EVF9ZHZDEGQ2AKJ
The Workout:
Workout Breakdown:
Grab your resistance bands for this workout. If you don't have any you can use body weight and/or dumbbells for this routine.
15-Minutes Per Round.
Repeat this workout up to 3X.
1. Side to Side Squat
2. Row the Boat
3. Single Arm Squat to Press: Right
4. Single Arm Squat to Press: Left
5. Skier
6. Tricep Kickback
7. Lateral Raise
8. Single Leg Bridge Press: Right
9. Single Leg Bridge Press: Left
10. Extended Hydrant: Right
11. Extended Hydrant: Left
12. Sumo Squat Pull
13. Row
14. Deadbug: Right
15. Deadbug: Left