Hello Everyone!
Welcome to today's workout! Today we are focusing on Resistance Band Exercises! I have had a lot of requests to film a resistance band workout video. I really enjoyed this routine, so if you like it please let me know and I will be sure to film more workouts like this.
If you don't have resistance bands, don't panic! This full body workout can be done with resistance bands, body weight or dumbbells. There is always a way to modify. I loved the added resistance in this routine, and I think it is going to provide a big boost with my overall strength and dynamic mobility.
I did one round this morning and I am going to do 1-2 rounds this evening. We had lots of errands to run today, so I had to split the workout. One round will take 15-Minutes, and it can be repeated up to 3X, if you have the time and energy for a more intense workout.
Nutrition and Hydration
This week, I am focusing on nutrition and hydration. I meal planned before we went grocery shopping, which made my grocery shopping trip much easier. I have some fun meals planned for the week. We have another week before our son starts school, and I want to get in the habit of prepping healthy meals for all of us.
This week our lunches are going to be focused on protein rich bowls with brown rice and lots of veggies. If they turn out as well as I am expecting, I will be sure to share some new recipes.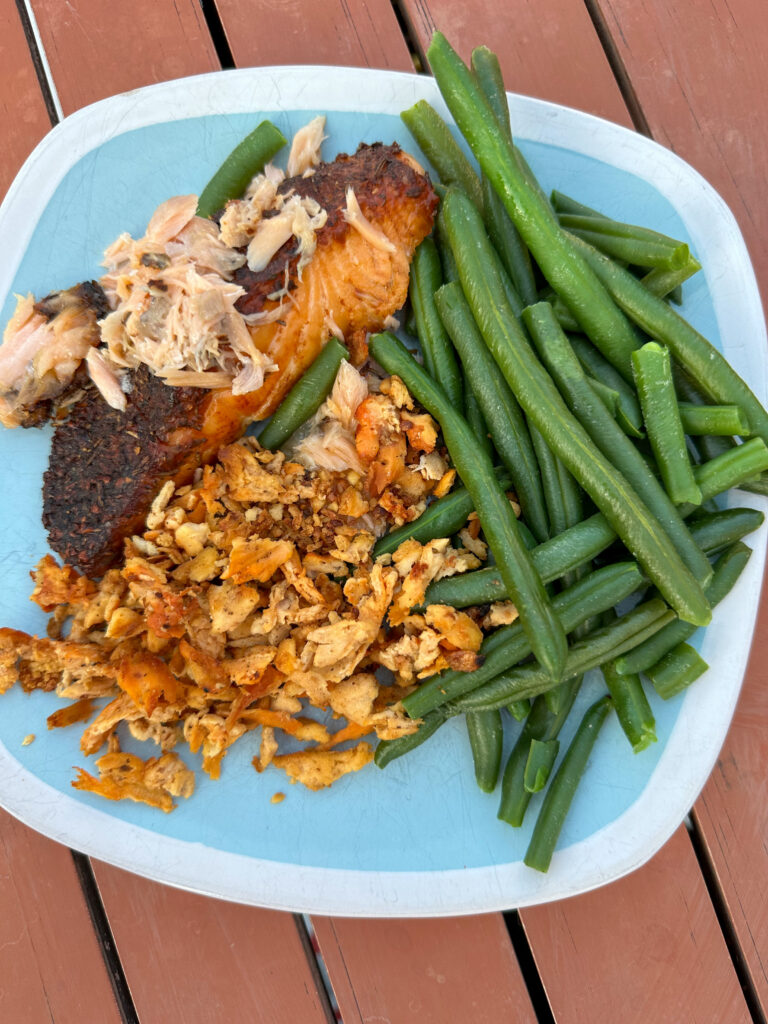 September Challenge
I am running another challenge for my subscribers. In September we are going through my Fit at Home workout series. Today's Resistance Band Workout will be part of that series, but it also includes plenty of brand new workouts. If you are unable to join the challenge, you can pick one of my older workout challenges that I have shared here.
If you want to preview the workout list for the new challenge, you can find it here: Fit at Home Workout Series.
A New Semester of Teaching
Today starts a new semester at the university where I teach. This semester I am only teaching one kinesiology class. Luckily, it's one of my favorite classes to teach: Yoga. I absolutely love seeing the progression that my students make throughout this course. It's such a beautiful journey, both physically and mentally. I'm excited to meet my new group of students.
I hope that you have an amazing day today, and a great start to the week. Let me know if you liked this workout, what your favorite exercise was, and which exercise challenged you the most.
See you soon with a new workout!
Melissa
Exclusive Workouts & Bonus Content Membership: https://www.MelissaBenderFitness.com
Amazon Storefront: https://www.amazon.com/shop/benderfitness
The Workout:
Equipment: Resistance Band
Attitude Lift: Right
Attitude Lift: Left
1/2 Circle: Right
1/2 Circle: Left
Hydrant: Right
Hydrant: Left
Pendulum: Right
Pendulum: Left
Squat & Curl
Archer: Right
Archer: Left
Row
1/2 Deadbug: Right
1/2 Deadbug: Left
Down Dog Toe Tap
Repeat 1-3X