Hi Everyone!
Welcome to a new workout! This awesome, no equipment workout will only take 15-minutes per round. It's all done on the mat, so there is no jumping and no up and down in this workout routine.
Body weight exercises are an incredibly effective way to get in shape at home. I've worked out at home, exclusively for over a decade now. I can personally attest to how impactful home workouts can be to your overall health and wellness. If you would like to go straight to the workout video, photo tutorial and workout breakdown, you will find them below.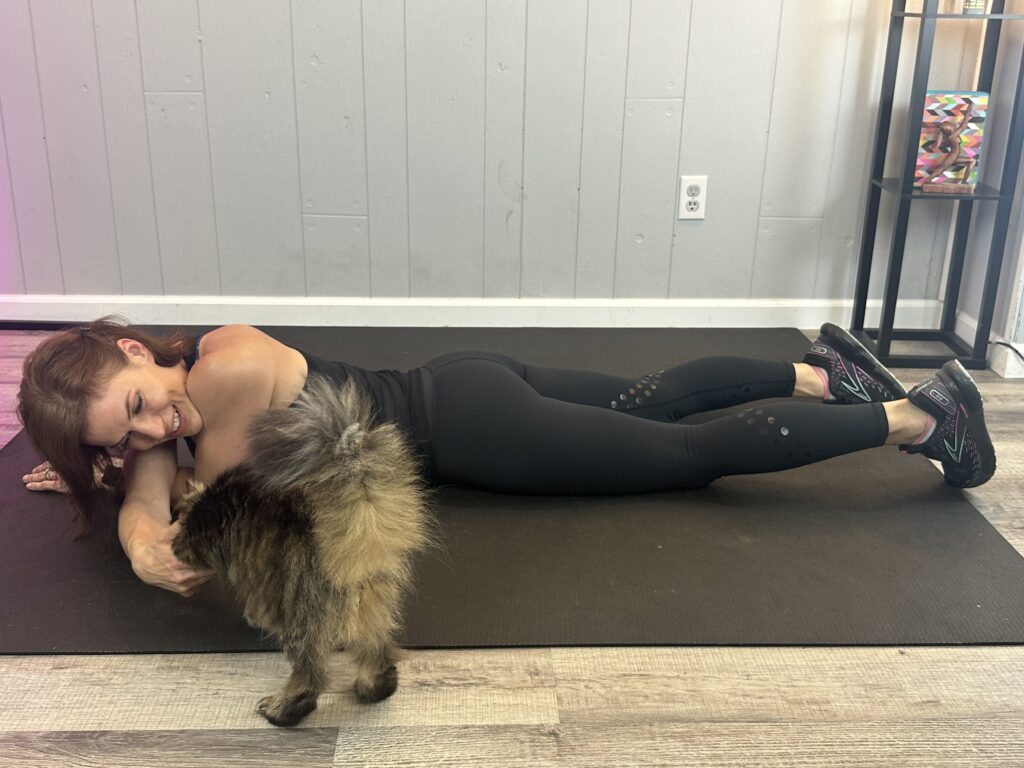 Creating a Routine
Having a schedule or routine for your workouts can be a huge help when it comes to developing consistency. My work schedule will be changing next week, so I will need to adjust my schedule and workout routine. For many people, changes in their schedule can be a huge hurdle to workout consistency. Planning and preparing for those changes can help smooth the transition.
It takes effort to keep your health and fitness habits on track, but it's so worth it. Your health impacts every moment of your life. I don't just want to live a long life, I want to live a long, happy and healthy life. While I can't guarantee anything about the future, I can make an impact with my choices today.
New Edits/Video Format
I would love to hear your feedback on the new edits I tried in this video. Did you like the on screen timer and the "Up Next" video?
We've been wanting to update our videos and make them more helpful, and we finally upgraded our computer. It's been fun learning some new editing skills. Mental exercise is just as important as physical exercise!
Hackers, Hackers, Hackers: (UPDATE: I got my FB page back!)
I'm still dealing with Meta and trying to get my Facebook business page back after it was stolen by hackers. The hackers haven't been running ads today, which may be a sign that Meta is working behind the scenes, or may be because I reported every one of their ads as fraudulent. I was in contact with someone from Meta again today, and they gave me the same form response that I've already gotten twice. I remain hopeful that I will get my Facebook page back eventually, but we shall see. Remember, if you get messages or see ads for weight loss gummies, that's from the hackers, not me. Weight loss gummies are not something that I would be promoting. Health and wellness requires effort and healthy decisions.
Meta assures me that they are working to get my page back under my control, but only time will tell. It's already been a week, so we shall see how much longer this process takes.
Update: I got access to my Facebook Page back! It took 12 days, but I am back in. There are still some restrictions on my account, and it won't let me change the name back yet. I'm sure that will be resolved soon.
I hope you enjoy today's workout!
Melissa
More Workouts: https://linktr.ee/BenderFitness
Make a Donation via PayPal Here: https://www.paypal.com/donate/?hosted_button_id=X9S4VDNYE8RVU
Amazon Storefront: https://www.amazon.com/shop/benderfitness
The Workout:
Interval Timer is set for 15 Rounds of 10/50:
Leg Series: Right
Leg Series: Left
Hydrant: Right
Hydrant: Left
Beast to Heels
Plank Heel Press
Side V-Up: Right
Side V-Up: Left
Balanced Bicycle
Heel Tap Abs
Toe Tap Push-ups
Locust with Scapular Glide
Tricep Push-ups: Right
Tricep Push-ups: Left
Walk the Plank
Repeat 1-3X