Hi Everyone!
Welcome to today's workout! For this routine you don't need any equipment besides a yoga mat, interval timer (unless you're following along with the video!) and a little bit of space.
We start with a warm-up, progress into the workout, and finish with a cool down. If you repeat this workout, be sure to amp up the intensity during the first and last section of the routine. Your body will be ready to work at a higher level of intensity.
Below you will find the full length, real time workout video, as well as a photo tutorial of each exercise move.
I am currently 18-weeks pregnant. That means, that I am pacing myself during the workouts. Feel free to push to the next level of intensity. It's important for me (and all pregnant women, unless otherwise directed by a doctor) to consistently get in moderate intensity workouts. That means that I can't push as hard as I normally would during my routines. I really miss working out at a higher intensity, but I will continue to do what is best for me and the baby.
Healthy Household Changes:
I've also been focusing on making some other healthy changes, including de-cluttering our home.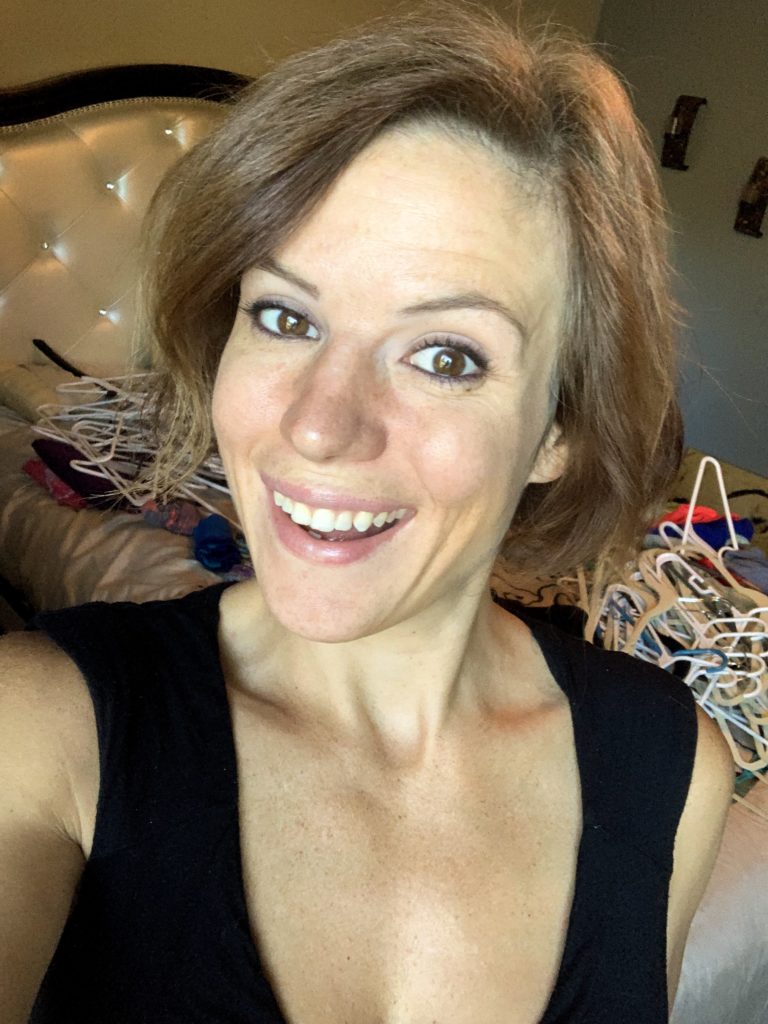 In the photo above, you can see my bed is completely covered in empty hangers. Each hanger, represents something that used to be hanging in my closet. I am either donating, or putting away out of season clothing, and making as much space as possible.
With another baby on the way, it feels like we are out-growing our home. There just isn't enough space for all of the ways we use our house. It's a bit overwhelming, but I am trying to downsize our belongings as much as possible to make room for a baby, and the myriad of equipment that includes. It's an exciting time, but it feels like there is a lot to do in a short period of time.
Pregnancy Update:
Every time I think my morning sickness is over, it makes a stealthy return. Luckily, it now only seems to rear it's head 1-2X per week, which is a huge improvement over the 24-hour per day nausea of the first trimester.
Mentally, this pregnancy has been much more challenging. I'm not used to being as sick, weak, and tired as I have been. It's a challenging mental adjustment. My stress management levels are always better when I consistently exercise. Working out has been more hit or miss than I like. I am continuing to focus on meditation, in addition to exercise.
It helps me manage stress, and to take some time to myself each day. I'm much moodier than normal, and meditation makes me feel less reactive to everything going on around me.
Filming New Workouts:
Please let me know what type of workout you would like to see next, and how you liked today's workout. Have you been enjoying the longer workouts, or do you prefer my 15-Minute routines?
I'm also starting to plan ahead for after the baby is here. Do you prefer 30-Day Challenges, Weekly Workout Schedules, or my 6-Week, 10-Week or 6-Month Workout Series?
I will continue to film new workouts throughout my pregnancy, but I am chomping at the bit to get in some fantastic workouts and see great results. After my son's birth I filmed a 6-Week Postpartum Workout series. I'm going to share my workouts, and postpartum journey once again. I just haven't decided on the format yet.
Have fun with today's workout! Get sweaty, be strong, and know that by showing up for this today, you made a great, healthy choice for yourself.
Melissa
PS You can find me on Social Media: @BenderFitness and on Facebook: @MelissaBenderFitness and Jesse is on Instagram: @BenderCrosby1
PPS If you want to help support BenderFitness so we can continue to share and create Free Workouts, your donation is greatly appreciated: https://www.patreon.com/BenderFitness. 
PPS I recently created an Amazon Shop. It includes some "Must Have" workout equipment, kitchen tools, books I've enjoyed, fashions I love and fun household decor items. This is an affiliate link: that means BenderFitness makes a small commission when you purchase an item. If you would like to check it out you can do so here: www.amazon.com/shop/benderfitness
Set Your Interval Timer for 23 Rounds of 35/45.
In/Out March
Cross and Swing-Right
Cross and Swing-Left
Butt Kicks
Alternating Toe Touch Reach
Jump Squats
Butterfly Glute Bridge
Warrior III-Right
Warrior III-Left
Low Jack
Burpee
Sumo Push-ups
Tricep Push-ups-Right
Tricep Push-Ups-Left
Rib Hug Plank
Side V-Up or Knee Up-Right
Side V-Up or Knee Up-Left
Heel Slides
Bird Dog-Right
Bird Dog-Left
Goddess Stretch
Lunge and Reach-Right
Lunge and Reach-Left
Repeat up to 3X.