Hi Everyone!
I hope you are ready for a fantastic workout! Today's routine is an excellent program for your entire body. You don't need any equipment. Grab some water, and you are ready to go. Below you will find the full length workout video and the photo tutorial for each exercise.
For this routine, set your interval timer for 30 Rounds of 30-seconds Cardio and 50-seconds Max repetitions per exercise. Challenge yourself to work at a high level of intensity. Aim for between a 7-9/10 level of effort.
If you are breathing hard and working up a sweat, you are in the right zone of intensity.
Interval workouts are a great way to work at your own level. If you need a break, take it, and then get right back into the workout. Fitness and health is a building process. While it's important to push yourself, it's equally important to listen to your body, and rest as needed.
Don't sacrifice form for speed. Get in max reps with good form.
Life Update:
It's been a wonderfully busy few weeks in the Bender household. I finished up teaching kinesiology classes for the semester. We had a quick trip to California for a wedding and a visit to Disneyland California Adventure Park. My son's favorite thing in the world is Cars and Lightning McQueen, and bringing him to Cars Land was an amazing experience.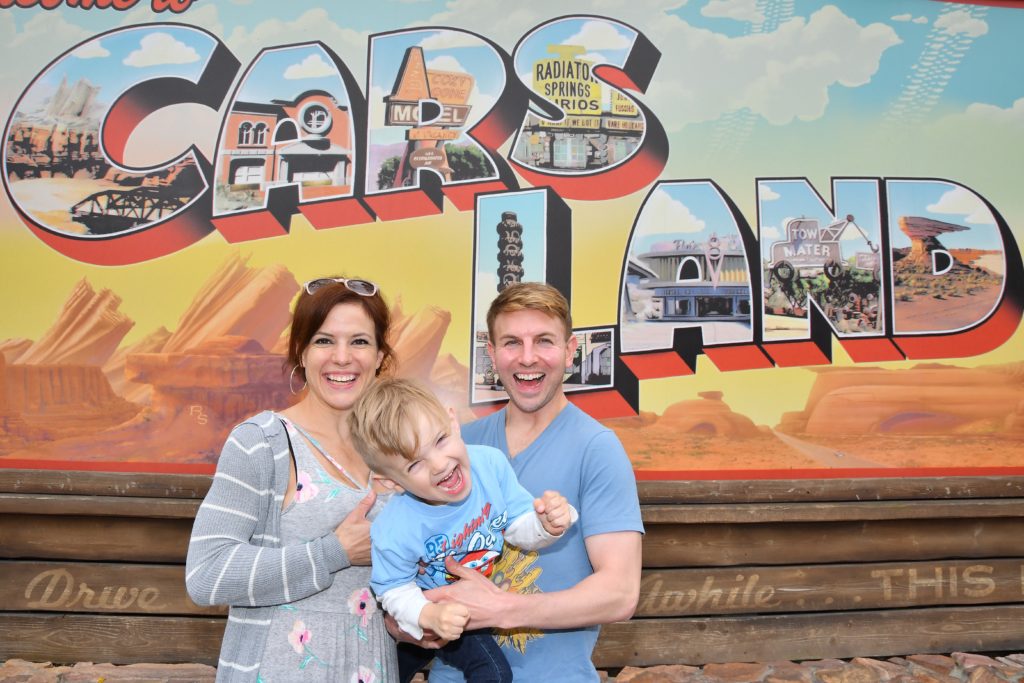 Joy is an understatement for how happy he was to take a trip to Radiator Springs.
I filmed a quick hotel room workout for Instagram while we were traveling, so if you haven't given that a try check out at @BenderFitness on IG.
I hope you all enjoy today's workout. I have a whole stack of workouts written and ready to film. Several of them are a longer format, like today's workout. Let me know in the comments if you liked today's workout, and if you like having the option of a longer workout.
Have fun, be strong, and make choices that help you feel healthier and happier. See you soon with a new workout.
Melissa
PS You can find me on Social Media: @BenderFitness and on Facebook: @MelissaBenderFitness and Jesse is on Instagram: @BenderCrosby1
PPS If you want to help support BenderFitness so we can keep bringing you new workouts, your donation is greatly appreciated: https://www.patreon.com/BenderFitness
Workout Breakdown:
Set Your Interval Timer for 30 Rounds of 30/50
*30-seconds of cardio between each exercise
Half Squat Rotation
Bird Dog-Right
Bird Dog-Left
Lunge Jump
Angel Abs
Plank Crunch
Spiderman
Reverse Knee Tap
Squat-Switch-Tuck
Criss Cross Abduction-Right
Criss Cross Abduction-Left
Beast Cross Kick-Right
Beast Cross Kick-Left
Ninja Jump
Walk the Plank
Wide Leg Reach to Side Plank-Right
Wide Leg Reach to Side Plank -Left
Shoulder/Hip Tap Push-up
In/Out Plié Jump
Down Dog Hop-Right
Down Dog Hop-Left
Leg Series-Right
Leg Series-Left
Donkey Kick
Pendulum Chair-Right
Pendulum Chair-Left
Down Dog Open Heel Press-Right
Down Dog Open Heel Press-Left
Squat Pulse
Low Lunge Switch