Hi Everyone!
Welcome to today's workout! This routine is focused on strengthening your core. It incorporates fat burning cardio bursts throughout to maximize the burn, and boost your metabolism.
Choose the best cardio variation for your needs. I did high knees throughout, but I also demonstrate marching in place as a low impact cardio variation. Keep your core engaged throughout your cardio burst to help strengthen your transverse abs.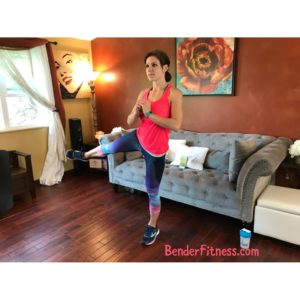 I filmed this workout in two parts, but it is actually the second half of a longer workout I wrote. You can do this workout on it's own, or pair it with Part 1 of this workout: Home Exercises for Lean, Strong Legs: Bodyweight
Do you like having the workout video split, so you can customize it to fit your time frame, or do you prefer to have one longer workout video? With a toddler, I find that it's easiest to have the option of shorter workouts, and then stack or repeat them as needed, but I would love to have your feedback.
I hope you enjoy today's workout routine! Let me know what you thought, and if you had a favorite move. Have fun!
<3 Melissa
PS You can find me on Social Media: @BenderFitness and on Facebook: @MelissaBenderFitness and Jesse is on Instagram: @BenderCrosby1
For my non-fitness related posts, I am on Instagram as @Melissa_Bender_Life
PPS If you want to help support BenderFitness so we can stay free and sustainable, your donation is greatly appreciated: https://www.patreon.com/BenderFitness
30 Seconds Cardio, 50 Seconds Max Reps per Exercise
Walk out Plank
Back Stroke Abs
Side Plank Leg Tap Extension-Right
Side Plank Leg Tap Extension-Left
Swimmer/Breast Stroke
Angel Abs
Rock the Boat with Kick
Reach Through Side Plank-Right
Reach Through Side Plank-Left
Seated Dips
Walk the Plank
Down Dog Reach Through
Low Impact Jumping Jacks
Chair Squat Calf Raise
Wood Chopper-Right
Wood Chopper-Left
Repeat up to 3X or pair with Home Exercises for Lean, Strong Legs.