Hi Everyone!
Welcome to this week's workout schedule. I have five workouts planned for this workout. You can find links to the total workout breakdown, and the video of each workout below.
In addition to to these workouts I will be posting a daily bonus move exercise challenge. So be sure to follow me on Instagram or Facebook if you want to try the challenge move.
Our workout schedule is as follows:
HIIT Workout
LIIT Workout
Strength Training Workout
Stretch/Flexibility
Total Body or Area Focused Workout (This one will rotate)
Of course, you can always modify the workout schedule to best suit your needs. Each workout can be done once, or repeated if you want a longer/more intense workout. Please leave a comment and let me know when you get in the workouts. It helps you stay accountable, and it lets me know if you are finding the workouts helpful.
Research shows, that when you have support (virtually or in person) you are more likely to stick to your goals. We have created a really great team and community here.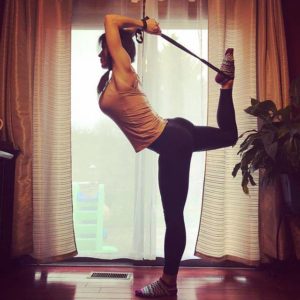 I am mid-way through the semester for the yoga class that I teach. It has helped motivate me to continue practicing and progressing some poses that I haven't worked on in a while. I have some slight scoliosis (which has been greatly helped by exercise) and back bending has always been a challenge for me. As a result, it's something that I haven't practiced as often as I should.
I am re-focusing on health as a whole. That means finding balance in both body and life. I am spending more time meditating, and less time procrastinating. In life we should always be changing, adapting, progressing, and experiencing new things.
I encourage you to try something new this week. It can be a new food, new music, a new exercise or yoga pose, anything. Purposefully take a moment and go outside of your comfort zone. It doesn't matter if your trial is a failure or a success, because the point isn't winning or succeeding. Focus on trying something new for the pure experience. We are most limited by the things it never occurs to us to try. 
I try to provide my son with new experiences, because it is good for him. The same remains true for adults. Experiencing new things is great for us. It can help us to live a more fulfilled life, and introduce us to new things that we love.
Let me know what you new thing you try this week, and what you think of the workouts.
Have fun with this week's workouts! I love seeing your check-in posts and comments! Don't forget to use the hashtags #BenderFitness and #BFBody and tag me in your posts.
I would love to hear which exercise you found the most challenging, and which one you liked the most. Don't forget to check out my Move of the Day Bonus challenge!
Melissa
PS You can find me on Social Media: @BenderFitness and on Facebook: @MelissaBenderFitness and Jesse is on Instagram: @BenderCrosby1 
For my none fitness related posts I am on instagram as @Melissa_Bender_Life
PPS If you want to help support BenderFitness so we can stay free and sustainable, your donation is greatly appreciated: https://www.patreon.com/BenderFitness
Workout 1: HIIT Workout:
Workout 2: LIIT Workout
Fit & Healthy Workout Challenge: Day 19: Low Impact: Lower Body, Arms & Abs (No Jumping Home Workout)
Workout 3: Strength Training
Workout 4: Stretch/Flexibility
Workout 5: Total Body Workout & Fat Burn