Hi Everyone!
It has been a heck of a week in the Bender household. The kind of week where as soon as one person gets over an illness, the next family member gets it. Somehow, I have managed to stay healthy, but I did not make it through the week totally unscathed.
For the past week I have been having right lower back pain. It's worse after sitting, but I know I am having either a muscle spasm or some type of SI Joint pain. That means a chiropractor and or massage will be in my near future. Typically yoga stretches help me get rid of any aches and pains, but this one is hanging tough.
So how are my workouts going you ask? They haven't been. I taught a Body Blast class on Wednesday, and Yoga on Monday/Friday, but outside of that exercise has been a no go, while I focus on stretching, and taking care of my sick family.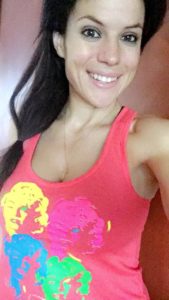 That also means that going into Thanksgiving week I am feeling freshly motivated to bust out some new workouts, and get back on track with filming. The speed bumps seem to be more frequent these days, but I won't let them turn into road blocks. I have some great new workouts ready to be filmed for you. I posted the list of exercises for one of the new routines on my Instagram and Facebook pages.
For today's workout I choose a 20-Minute Total Body Workout Routine. It's efficient and challenging (in a good way!) I use a dumbbell and stability ball. If you don't have equipment don't worry. Check out the video and photo tutorial below for modifications.
When you are finished with your workout, let me know what you thought of the exercises. Did you have a favorite move that you want to see make a comeback in future videos? Leave a comment and let me know!
Melissa
PS You can find me on Social Media: @BenderFitness and on Facebook: @MelissaBenderFitness and Jesse is on Instagram: @BenderCrosby1 
For my none fitness related posts I am on instagram as @Melissa_Bender_Life
PPS If you want to help support BenderFitness so we can get a new camera & new equipment & make our site more sustainable your donation is greatly appreciated: https://www.patreon.com/BenderFitness
This workout can be completed for Reps or Intervals.
Equipment: Dumbbell and Stability Ball (Equipment free modifications listed below). See the video and photo tutorial.
Reps:
Beginner: 10 Reps
Intermediate: 15 Reps
Advanced: 20 Reps
Intervals: 12 Rounds of 10/50.
Supergirl
Lunge Jump
Down Dog Leg Lift-Right
Down Dog Leg Lift-Left
Jump Squat
Decline Pushup Ab Pull (Frogger Pushup Modification)
Jumping Jacks
Side Plank Reach Through-Right
Side Plank Reach Through-Left
Overhead Squat
Pendulum Squat
Side to Side Mountain Plank
Repeat 1-3X