Hi Everyone!
It's workout time! I have a BRAND NEW workout for you today! When I get excited I start to excessively use exclamation points. I am so happy to be back with new workouts.
Up and Coming Workouts: My sister in law is off several Wednesday's during the summer, and she is helping me out by baby sitting Maverick so I can film new workouts. In addition to today's workout, I have a 21-minute HIIT, a quick Kid's workout, and a stretching video headed your way this week. On Wednesday I will be filming again.
Slowly, but surely I am working my way back to a schedule. I always considered myself a master multi-tasker, but these days it takes longer to do everything. At the same time I am trying to savor every moment, because my baby is growing so quickly.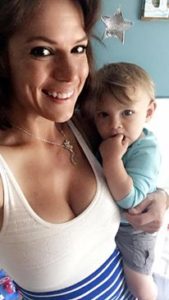 Today's Workout: This workout does not require any equipment. It is a full body workout that should get you to work up a great sweat. I incorporated some exercises that I haven't used in a long time and really enjoyed the new moves.
Focus on gettiing in your maximum number of reps during each 50 second interval. You have ten seconds of rest in between exercises. Try to maintain form throughout each exercise. Modify as needed. If you need suggestions for modifications let me know in the comments.
Don't be afraid to go outside of your comfort zone. That's where improvements happen. 
I hope you enjoy today's workout!
Melissa
PS You can find me on Social Media: @BenderFitness and on Facebook: @MelissaBenderFitness and Jesse is on Instagram: @BenderCrosby1
PPS If you want to help support BenderFitness so we can get a babysitter (so we can film more often), new camera, new equipment & make our site more sustainable your donation is greatly appreciated: https://www.patreon.com/BenderFitness
Set Your Timer for 15 Rounds of 10/50.  Buy a Gymboss now.
Mountain Climbers
Double Ans
Highknees
Double Side Plank-Right
Double Side Plank-Left
Tuck Jumps
Tricep Leg Lifts
Sumo Squats
Low Ab Hold
Sitting Ab Lift
Bridge Squeeze
Burpee
Warrior III-Right
Warrior III-Left
Down Dog Plank Push-up
Repeat 1-3X
SaveSaveSaveSaveSaveSave
SaveSave