Hi Everyone!
I have two workouts on the agenda for you today. First I have a quick 12-Minute Arm + Leg Burnout workout. The second workout is a Total Body Fat Burning Workout. You can pair them together, or pick one to do today.
The first workout today is for time, and the second workout is for Reps. As always, push yourself, but d not sacrifice form for speed. Good form is key to working the correct muscles. Good form also helps prevent injuries.
I wasn't able to get online at all yesterday, and we had a crazy busy weekend. Maverick is getting his top two teeth, so we haven't been getting as much sleep. I went on a Helicopter tour of Pittsburgh with my sister and her husband. It was my first time in a Helicopter, and it was a lot of fun! The view was amazing. I have always wanted to take flying lessons.One more thing to add to my To Do list!
We also went to a Comic con. Maverick really liked meeting Mena Suvari. His expression in the photo below cracked me up! She was very nice & looked like she hasn't aged a day. I should have asked her for tips on skin care! 😉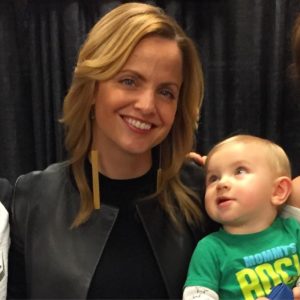 I have gotten in some running and walking. Unfortunately I am suffering from IT Band Syndrome so I need to rest, stretch, ice and foam roll. It's such a frustrating injury because I feel 100% fine until I start running. My Half Marathon is less than a month away so I am going to give myself time to heal. After being sick last month I am concerned about lasting through the race.
During my race, I am fundraising for Love146 to help prevent human trafficking of children. It's very important to me to be able to run this race, because it is such an important cause. If you are able to make a donation every dollar helps! You can do so here: Love 146 Fundraiser. Your donation helps rescue children from slavery, and provide services and support to the children who are rescued. Donations are tax deductible.
I hope you enjoy today's workout! Let me know what you think!
Melissa
PS You can find me on Social Media: @BenderFitness and on Facebook: @MelissaBenderFitness and Jesse is on Instagram: @BenderCrosby1
PPS If you want to help support BenderFitness so we can get a new camera & new equipment & make our site more sustainable your donation is greatly appreciated: https://www.patreon.com/BenderFitness. 
Equipment: Buy a Gymboss now. Timer set for 24 Rounds of 10/20.
1. High Knees
2. Sumo Pushups
3. Squat Jumps
4. Walking Pushups
5. Lunge Jumps
6. Single Leg Pushup (Alternating)
7. Plie Jump
8. Shoulder Tap Pushups
9. X-Jump
10. Supergirl Pushups
11. Heel Tap Squat Jump
12. Heel Tap Pushup
Repeat 2X=1 Round
Complete 1-3 Rounds
Optional: 30 Minutes of Cardio
Beginner: 10 reps, 2 Burpees
Intermediate: 15 reps, 3 Burpees
Advanced: 20 reps, 5 Burpees

*Cardio Warm Up

1. Frogger
-Burpee
2. Jump Squat
-Burpee
3. Mountain Climber
-Burpee
4. Lunge Jump
-Burpee
5. Russian Kick
-Burpee
6. Surfer
-Burpee
7. Push-up Jack
-Burpee
8. Ninja Jump
-Burpee
9. Pendulum Hop
-Burpee
10. Low Jacks
-Burpee

*Cardio Cool Down