Hi Everyone,
I have been meaning to post this recipe for ages! It's simple to make, and very delicious. This is a great substitution for anyone looking for a healthy alternative to fried rice.
When I first made it, and told my husband what it is his eyes grew wide with fear. He isn't a fan of cauliflower. "Did I do something to make you mad?" He asked me. "Because first it was cauliflower mashed potatoes, and now this." I reminded him that he liked the cauliflower mashed potatoes, and he grudgingly agreed. I told him if he didn't like it I wouldn't be offended, as long as he gave it a try, and reminded him that we have plenty of cereal, and other foods he could have instead.
The result? He loved it, wolfed it down, had seconds, and has since requested that I make it more often.
I have made this dish with no meat, with shrimp and with chicken. It was delicious each way. You can customize it a bit by changing which vegetables you add. It's great as a side dish, or a main course.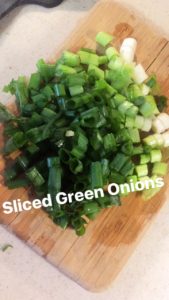 I normally use fresh cauliflower, but when I am in a hurry I sometimes use the microwaveable steam bags of minced cauliflower, and that works as well. I just cook the cauliflower in the microwave, and decrease the cooking time on the stove.
Don't be afraid to make the recipe your own! I rarely ever try a recipe without modifying something. If you have a modification that turned out to be delicious, please post a comment to let us know what you tried. You can always tag us in your photos on social media and let us know what you think!
Melissa
PS You can find me on Social Media: @BenderFitness and on Facebook: @MelissaBenderFitness and Jesse is on Instagram: @BenderCrosby1 Maverick on Instagram: @MaverickBender
PPS If you want to help support BenderFitness so we can get a new camera & new equipment & make our site more sustainable your donation is greatly appreciated: https://www.patreon.com/BenderFitness.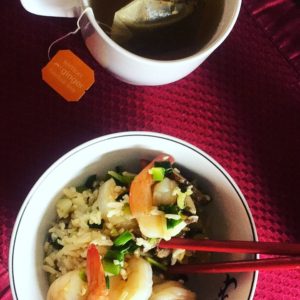 Cauliflower Fried Rice
Serves 2-3
Ingredients: 
2 1/2 cups minced cauliflower (you can mince by hand, with food processor, or buy a package of minced cauliflower at the supermarket)
1 Tablespoon minced garlic
2 tablespoons sesame oil
1 onion chopped
Frozen peas (optional)
Carrots chopped or minced
2-3 Tablespoons Less Sodium Soy Sauce (or more to taste)
2 Eggs Beaten
2 tablespoons green onion (optional)
Handful fresh baby spinach (optional)
*Optional You can add chicken or shrimp to this recipe to create Chicken or Shrimp Fried Rice. 
Directions: 
In a wok or large pan over medium flame, heat oil and minced garlic until garlic is fragrant.
Add onions, and cook until they begin to soften.
Add carrots and cook until they begin to soften.
Add cauliflower. Stir ingredients occasionally to ensure food is cooked evenly.
Add frozen peas if using, stir occasionally until food is evenly heated.
Add 2-3 Tablespoons of Soy Sauce (or more to taste), and fresh ground black pepper to taste.
While stirring, slowly, mix in two beaten eggs.
If you are adding spinach do so now, and allow spinach to wilt.
You are ready to serve your cauliflower fried rice! Optional: Garnish with 2 Tablespoons of chopped green onion.
*If you would like to add chicken or shrimp to this recipe you can either pre-bake your chicken and dice it, adding it in after the frozen peas. You can also choose to cook chicken or shrimp in a separate pan with some garlic and olive oil.