Hi Everyone!
Are you ready for today's workout? This routine is a great Fat Burning, Total Body Sculpting Workout. It's challenge, and will get you sweaty. I taught this routine in my jogging class a cross training workout day.
This workout is designed to prevent muscular imbalances, challenge your cardiovascular system and improve your endurance. I did two rounds with my class the first time I went through this workout. When I filmed this workout I went through it once. I found it challenging both times, but definitely liked the increased challenge of going for two consecutive rounds.
As always, be sure to warm-up before your workout, and cool down afterward.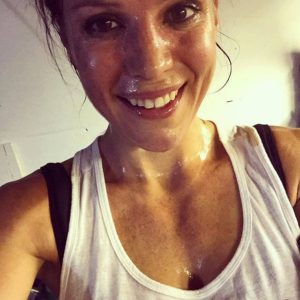 Warning: My son decides to practice every dragon yell he knows, so you may want to turn down the volume & follow along with the exercise descriptions at the bottom of the screen. I provided a link to an alternate workout in the video for anyone who will find the dinosaur yells too distracting. I can try to create an alternate video with subtitles and sound removed, but I am not sure when I will have time to sit down and get that done. 
I have a list of new workouts I want to film and share with you, so that is what I want to focus on right now. Tomorrow I am starting my 30-Burpees for 15-Days challenge. If you want to join me you can follow along with me on Social Media. I find doing a daily check-in post very motivating, and it helps me stay on track. It also motivates me to see everyone else who is participating in the challenge, so please tag me in your photos!
I hope you enjoy today's workout! Let me know what you think!
Melissa
PS You can find me on Social Media: @BenderFitness and on Facebook: @MelissaBenderFitness and Jesse is on Instagram: @BenderCrosby1
PPS If you want to help support BenderFitness so we can get a new camera & new equipment & make our site more sustainable your donation is greatly appreciated: https://www.patreon.com/BenderFitness. 
Interval Timer: Buy a Gymboss now. 
Set your Timer for 12 Rounds of 30/50.
30 Seconds of Cardio Before Each Exercise.
In/Out Jump
Single Leg Hip Thrust-Right
Single Leg Hip Thrust-Left
Warrior III-Right
Warrior III-Left
Burpee
Reverse Plank Leg Lift
Angle Abs
Side Plank Hip Drop-Right
Side Plank Hip Drop-Left
Temple Tap Abs
Frogger
Repeat 1-3X