Hi Everyone!
Welcome to today's workout! Today we are focusing on the Core. We are going to work your tummy from every angle, to ensure that we are strengthening and toning every muscle of your midsection. One round of today's workout will take 15-Minutes. You can repeat it, or pair it with a cardio workout for some additional fat burning.
If you only have time for one round that's okay too! Consistency and healthy eating are going to help you really see results. I often only have time to go through one round of the workout, but getting in that 15-Minutes per day makes a big difference in how I feel, and my overall health, wellness and fitness.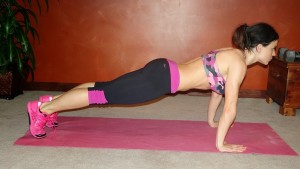 During Core Workouts it's important to keep your core engaged. This will help strengthen your transverse abdominals. The transverse abdominals work as a girdle, to pull your midsection in tighter and create a leaner waist. Engaging your core can be done by pulling the abdominal muscles in tight-imagine pulling your belly button toward your spine. This isn't the same as just "sucking in." You should be able to breath even while your abdominal muscles are engaged.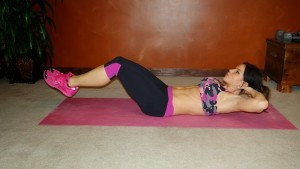 When you do these exercises try to prevent your stomach muscles from bulging outward, or creating a cone shape down the center of your belly. When the core is engaged, your stomach muscles will be pulling in toward your body, instead of pressing out. Be sure to breath through each exercise, and never hold your breath. Holding your breath causes intra-abdominal pressure, and creates more strain on the midline of your muscles.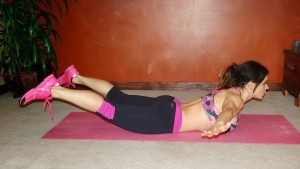 Be sure to have fun with today's workout! Challenge yourself for getting in maximum reps, and also give yourself a big pat on the back for showing up and getting your workout in today. You are choosing to do things to make yourself healthier and stronger & that is awesome!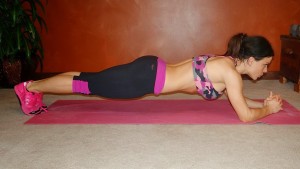 Don't forget: I started filming workouts for my Brand New February DietBet Challenge. If one of your goals is weight loss and you want to win money for losing weight you can sign up for my DietBet Challenge here: www.dietbet.com/benderfitness. It starts February 1st, but you can sign up now!
I am giving away a free entry into my DietBet Challenge to two lucky individuals! I embedded the entry form here, but if it doesn't load for you, you can find it on my Facebook page: @MelissaBenderFitness.
Melissa
PS You can find me on Social Media: @BenderFitness and on Facebook: @MelissaBenderFitness and Jesse is on Instagram: @BenderCrosby1 
PPS If you want to help support BenderFitness so we can get a new camera & new equipment & make our site more sustainable your donation is greatly appreciated: https://www.patreon.com/BenderFitness
Get Your Own Interval Timer: Buy a Gymboss now. 
10/50 Seconds Intervals. 

1. Mountain Climber
2. Super Snow Angel
3. Clamp
4. 3-Way Frogger
5. Unicycle (right)
6. Unicycle (left)
7. 3-Part Abs
8. Angel Abs
9. Plank Rock
10. Tick Tock Abs
11. Side Plank Hip Lift (right)
12. Side Plank Hip Lift (left)
13. Crunch and Tap
14. Hip Lift
15. Down Dog Plank
Repeat 1-3X