Hi Everyone!
Welcome to Day 28 of my Original #30DayWorkoutChallenge. Awesome job sticking with the workouts! Today's workout is focused on the Lower Body. We are going to work on our glutes, legs, and thighs. So grab a couple of dumbbells and get ready!
If you don't have dumbbells, or aren't ready for the added weight, you can do the exercises with body weight only. The addition of resistance will help challenge your body differently & boost your metabolism. If you have weights I definitely recommend using them.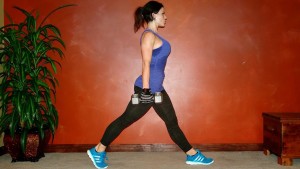 As always, focus on using proper form during each exercise. Although we are going for speed, you don't want to sacrifice form for speed. As you grow stronger you will be able to pick up the pace, while still maintaining good form. Challenge yourself to get in as many reps as you can for each exercise.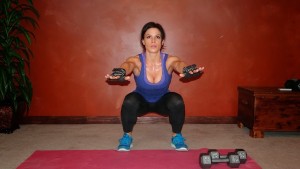 I also want you to take a moment and appreciate your ability to push yourself through these workouts. Just by showing up each day to do these exercises you are making yourself stronger and healthier. You are forming (or continuing) a healthy habit that will positively impact your life.
Have fun with today's workout!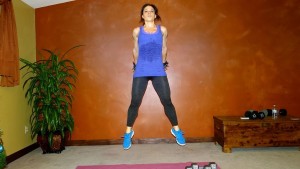 Don't forget: I started filming workouts for my Brand New February DietBet Challenge. If one of your goals is weight loss and you want to win money for losing weight you can sign up for my DietBet Challenge here: www.dietbet.com/benderfitness. It starts February 1st, but you can sign up now!
I am giving away a free entry into my DietBet Challenge to two lucky individuals! I embedded the entry form here, but if it doesn't load for you, you can find it on my Facebook page: @MelissaBenderFitness.
Melissa
PS You can find me on Social Media: @BenderFitness and on Facebook: @MelissaBenderFitness and Jesse is on Instagram: @BenderCrosby1 
PPS If you want to help support BenderFitness so we can get a new camera & new equipment & make our site more sustainable your donation is greatly appreciated: https://www.patreon.com/BenderFitness
Get Your Own Interval Timer: Buy a Gymboss now. 
10/50 Second Intervals. 10 Seconds Rest, 50 Seconds Max Reps. 

1. Jump Squat
2. Dumbbell Squat
3. Side Lunge Jump
4. Weighted Side Lunge
5. Hip Thrust
6. Romanian Deadlift
7. Lunge Jump 
8. Lunge Lift (right)
9. Lunge Lift (left)
10. Plie Jump
11. Goblet Squat
12. High Knees Toe Taps
13. Step-Up
14. Warrior Deadlift (right)
15. Warrior Deadlift (left)
Repeat 1-3X