Hi Everyone!
Welcome to Day 24 of my 30-Day Workout Challenge!!! Woohoo! We are almost at the end! I am sending you a virtual high five for making it this far!
Yesterday we focused on the Core. Today we have a full body workout on the agenda. You don't need any equipment for this workout. As always, with interval workouts you want to focus on proper form and getting in as many reps as possible.
One round of the workout will take 15-Minutes, but if you have time for a longer workout today you can repeat this one.
Jesse and I did our workout together last night. It's always fun to workout as a family. It's challenging to get my workouts in. Yesterday Maverick boycotted his naps. I only did one round, but that is always better than nothing!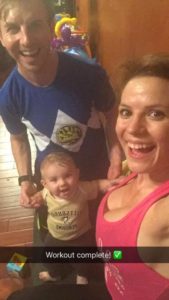 Please keep posting your workout check-ins. I love seeing them! it is so motivating to know that we are all in this challenge together!
I started filming workouts for my Brand New February DietBet Challenge. If one of your goals is weight loss and you want to win money for losing weight you can sign up for my DietBet Challenge here: www.dietbet.com/benderfitness. It starts February 1st, but you can sign up anytime between now and then.
Have fun with today's workout!
Melissa
PS You can find me on Social Media: @BenderFitness and on Facebook: @MelissaBenderFitness and Jesse is on Instagram: @BenderCrosby1 
PPS If you want to help support BenderFitness so we can get a new camera & new equipment & make our site more sustainable your donation is greatly appreciated: https://www.patreon.com/BenderFitness
10/50 Second Intervals (10 rest, 50 max reps)

1. Lunge Hop (right)
2. Lunge Hop (left)
3. Sit to Stand
4. Side Step Up (right)
5. Side Step Up (left)
6. Modified Handstand Push-up
7. Dips
8. Dive Bomber
9. Plank Press
10. Rotating Plank 
11. Criss Cross Leg Lift
12. Bridge/Table March
13. Angel Abs
14. Plank Reach (right)
15. Plank Reach (left) 
Optional: Repeat 1-3X