Hi Everyone,
You are in for a treat with the recipe below. It's delicious, it will satisfy your sweet tooth & no one will know it's healthy unless you tell them.
I have served this when we have friends over, and I brought it with me to my family's Thanksgiving. My nieces (6 and 3) both loved it!
The main ingredient? Chick Peas! So you are getting protein and fiber in this recipe! Chick Peas, also known as Garbanzo Beans, are rich in antioxidants and are a great anti inflammatory food.
The protein and fiber in Chick Peas will also leave you feeling fuller longer, and curb cravings. This is a great alternative to traditional Cookie Dough dips. Plus you aren't risking salmonella when you eat it! It is dairy free and vegan friendly if you use agave instead of honey. You can probably use raw maple syrup in place of agave or honey, but I haven't tried it. If you decide to test it out leave me a comment below and let me know how it is!
I have made this dip with multiple nut butters, and it has been delicious with each one. I tried it with Stevia in the Raw in place of honey (and added almond milk until it was the desired consistency), but I didn't like it as much.
I have also tried it with a mix of brown sugar and Stevia, but in my opinion it is best with the honey.
As I continue to trial different variations I will update the recipe to let you know if I find something that I like better.
I hope you enjoy the recipe!
Melissa
PS You can find this week's workout schedule: https://www.benderfitness.com/weekly-workout-schedule-december-11-17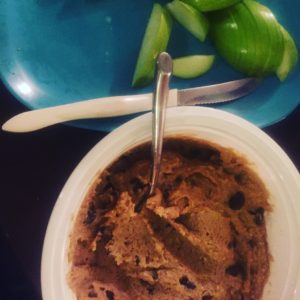 Ingredients:
1 Can of Chickpeas
1/8 tsp salt
1/8 tsp baking soda
2 tsp vanilla extract
1/4 cup Peanut Butter (or nut butter of choice)
3 tablespoons oats
1/3 cup to 2/3 cup Honey or Agave (depending how sweet you want it)
1/3 cup chocolate chips (I use dark chocolate chips)
Directions:
Combine all ingredients, except chocolate chips, in a food processor and blend until smooth.
Stir in chocolate chips.
Eat & Enjoy!
I serve my dip with sliced apples, but this would also be tasty with graham crackers.