Hi Everyone!
Are you ready to workout? I hope so! I have a great workout video posted for you below, as well as a recap to my (already) hectic week so far. I am planning to do the workout that is posted below this evening.
For the workout video below: My dumbbells were 20 lbs each. Choose a weight that is challenging for you. Don't be afraid to sculpt muscle. It gives your body shape, strength, and increases the amount of calories you burn even when your body is at rest. Push yourself for maximum repetitions, while focusing on using proper form. You can also choose to do the workout for repetitions instead of time. If you are worried that focusing on speed will make you lose form I recommend going for reps instead.
I had planned on filming a new workout this morning, but things got crazy! That said, I am making my workouts a priority. Last week I finally got back on track with a consistent workout routine, and I already feel the difference. My energy is better, I feel better physically, and I feel more confident. It's funny how exercise can impact you physically, mentally and emotionally.
Yesterday's posted workout was: 15-Minute Total Body HIIT: BodyWeight Workout. I did not get a chance to do that, but I did get in a great hodgepodge workout. I basically interspersed exercises with taking care of the baby, and getting stuff done around the house. Jesse has been on a holiday decorating frenzy, and I am trying to reorganize the house because Maverick is already trying to mobilize (he just turned 5-months old yesterday!)
This was my workout:
-Romanian Deadlifts with 75lbs resistance 15 Reps X3.
-Russian Twists with 20 lb (baby) weight resistance 20 Reps
-Chest Press 20 lb (baby) weight 20 Reps
-Lunge Jumps 40 Reps X2
-15-Minutes Yoga: Sun Salutations

Cardio: 5-Mile Inclined Power Walk (Treadmill Speed Ranged 4.0-4.2, Incline Ranged from 4-12).
I thought about running last night, but I wanted to multi-task and get in some reading as well so I decided on a power walk on the treadmill. It was a great way to work up a sweat & get in some reading at the same time.
Maverick is trying a new food this week: Avocado. He seemed to like it! It was also super easy to make (avocado + water then blend). It's a great food for babies and adults. In fact, I had some avocado, spinach, and an egg in a whole grain wrap for breakfast this AM.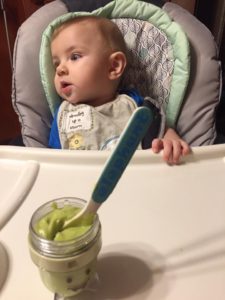 Anyway, I hope you enjoy today's workout! It is posted below. I will share an update on Instagram once I get my workout in. See you soon!
Melissa
PS You can find me on Social Media: @BenderFitness and on Facebook: @MelissaBenderFitness and Jesse is on Instagram: @BenderCrosby1 
PPS If you want to help support BenderFitness so we can get a new camera & new equipment & make our site more sustainable your donation is greatly appreciated: https://www.patreon.com/BenderFitness
For Time: 10/50: 15 Rounds, 10 seconds Rest, 50 seconds Max Reps
For Reps: Level 1: 10 Reps, Level 2: 15 Reps, Level 3: 20 Reps
Equipment: Dumbbells, Chair or Bench (sturdy surface to put your foot up on)

1. Dumbbell Swing (right)
2. Bulgarian Split Squat (right)
3. Dumbbell Swing (left)
4. Bulgarian Split Squat (left)
5. Romanian Deadlift
6. Chair Twist
7. Crunch and Tap
8. Single Leg Deadlift (right)
9. Single Leg Deadlift (left)
10. Side Plank Row (right)
11. Side Plank Row (left)
12. Heel Tap
13. Grand Plie 2nd Position
14. Supergirl Row (right)
15. Supergirl Row (left)
Repeat 1-3X
Optional: Pair with 30 Minutes Cardio of Choice