Hi Everyone!
Are you ready to sweat? Today's workout has a focus on the Glutes and Core. That said, you will still get in a total body workout, because of the compound exercises used in this routine. My shoulders were burning by the end, and I had to switch out some of the mountain climbers and planks for high knees.
Remember, choose the option that is going to be best for you! The goal is to challenge yourself & push hard, while maintaining good form. Sacrificing form for speed will not improve your results. You want to get faster during HIIT workouts, while maintaining proper form for each exercise.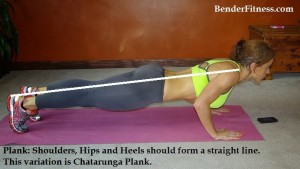 If you aren't sure, watch the video first before following along. I was also able to post a photo tutorial for each exercise below, because Jesse helped me out with the filming.
This is Day 2 in our Weekly Workout Schedule. This is something new we are trying, to keep things easy and accessible for everyone. Let me know what you think! You can find the full schedule here: Weekly Workout Schedule. I want to know if it is helpful, and if it helps you keep on track. Don't be afraid to adjust the days to fit your schedule.
Have fun with today's workout! Let's finish the year off strong, and then go full steam ahead into the New Year!
Melissa
PS You can find me on Social Media: @BenderFitness and on Facebook: @MelissaBenderFitness and Jesse is on Instagram: @BenderCrosby1 
PPS If you want to help support BenderFitness so we can get a new camera & new equipment & make our site more sustainable your donation is greatly appreciated: https://www.patreon.com/BenderFitness
Buy a Gymboss now.: Set Your Timer for 10 Rounds of 40/50.
Lunge Jump
Sump Squat
Pendulum Hops
Back Lift
Leg Series-Right
Leg Series-Left
Squat Jump Tap
Plank Abs-Right
Plank Abs-Left
Double Leg Circles
Repeat 1-3X