Hi Everyone!
I hope you are ready for today's workout. It's been a fun workout week so far, between daily workouts and our daily Booty Sculpt Challenge move of the day. Today's workout is a quick, 15-Minute Per Round Cardio HIIT. It's an intense one, but push through it and you will get an awesome burn!
As always, focus on form and getting in your maximum number of Reps during each exercise. If you are going to repeat the workout. I posted a Warm-Up video below. Please warm up before doing this workout. Not only will it help your body get ready for the workout, but it will actually help you to work at your maximum and get a better burn during the 15-Minute HIIT.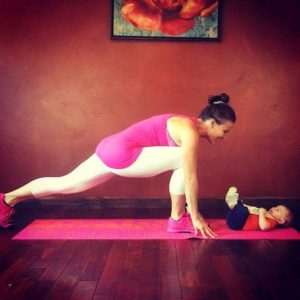 I have been posting the Booty Sculpt Challenge moves of the day here: https://www.benderfitness.com/30-day-booty-sculpt-move-of-the-day-challenge. I also made a playlist for the challenge on my youtube channel: https://www.youtube.com/MelissaBender. I feel like my glutes are already getting stronger since I started the challenge. I will be posting the Day 5 move later today.
Today's workout is a throwback workout, but we will be filming new workouts this weekend. We are going to start off today with a nice family run outside. I love running with Jesse and Maverick. It's so wonderful to be outside and get active with my family. Maverick loves looking at the trees and going for a ride, and it's a nice way to talk and spend time together.
I am planning a new program to help my sister, Jessica, get in shape, and she has agreed to share her journey on BenderFitness. She is a busy mom of two, and has some bad eating habits so we are going to focus on diet and meal prep first. We are currently working out the program and scheduling, so I will update you guys on when we are going to start that.
Also, is anyone interested in a DietBet Challenge to help stay accountable during the Holiday's? It's a weight loss challenge, so I normally host one to ring in the New Year, but I have had some requests for a challenge to help people through the Holiday Season. Let me know in the comments below if that is something you would be interested in.
I hope you enjoy today's workout!
Melissa
PS You can find me on Social Media: @BenderFitness and on Facebook: @MelissaBenderFitness and Jesse is on Instagram: @BenderCrosby1

PPS If you want to help support BenderFitness so we can get a new camera & new equipment & make our site more sustainable your donation is greatly appreciated: https://www.patreon.com/BenderFitness. 
–Buy a Gymboss now.! Interval Timer: 15 Rounds of 10/50
Help BenderFitness: https://www.patreon.com/BenderFitness
1. High Knees
2. Jump Squat
3. Mountain Climber
4. Ropeless Jump
5. Lunge Jump
6. Frogger
7. High Knees
8. Side Lunge Hop
9. Russian Kicks
10. Ropeless Jump
11. Warrior 3 Hop
12. Pop-up
13. High Knees
14. V-Up Hop
15. Burpee
Repeat 1-3X
Today's Challenge Move: