Hi Everyone!
I mentioned in my video the other day that I am challenging myself to do 10-Sun Salutations every day for the rest of the month. If you want to do it along with me you can use this video. The entire video takes about 25-Minutes, so if you need to split it up throughout the day you can do that. I try to do mine continuously, but sometimes the baby needs me before I am done with the series.
I consider Sun Salutations to be a foundational yoga exercise. Many practitioners recommend that new students do Sun Salutations exclusively for the first few years of their practice before moving onto other posture variations. It is a great full body exercise that focus on strength and flexibility.
My very first video on youtube & BenderFitness was actually Sun Salutations. I was so nervous in front of the camera, and I felt awkward. It's amazing how much more natural it feels talking to everyone after 5-years of practice!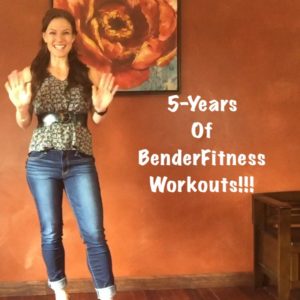 If you didn't see my announcement video the other day you can check it out here: 5 Years of BenderFitness & Upcoming Changes to BenderFitness. We are still filming on our iPhones since our camera broke, so if you want to help support BenderFitness so we can get a new camera we would greatly appreciate your donation here: https://www.patreon.com/BenderFitness.
Thank you all for your continued support and for sharing this fitness journey with us!
Melissa
PS You can find me on Instagram, Snapchat, Pinterest & Twitter: @BenderFitness and on Facebook: @MelissaBenderFitness
Jesse is on Instagram: @BenderCrosby1