Hi Everyone!
Today is an Interval Cardio Day! To get our Sweat on, Jesse and I took a spin class. Our local Spin gym is having Member Appreciation week, so all classes are free. They have a live DJ who chooses songs with the correct beat for your goal RPMs. I was literally dripping sweat, and my shirt was soaked!
I have a 10-Minute Per Round Interval Cardio workout posted below, but you can also choose to do interval running, walking, jump rope or biking. The goal is to intersperse easy effort and hard effort. The change in your intensity and heart rate is a great fat burning technique, plus the challenge to your body makes you stronger and improves endurance.
I also posted a 5-Minute Interval Workout that I paired with treadmill running. You can check it out, and choose whichever option you prefer, or combine both workouts together.
If you haven't checked out my Recipes section of the blog lately you can check it out here: https://www.benderfitness.com/category/recipes. I have been posting more recipes lately. I tried a chocolate banana ice cream recipe last night, that is super simple. I will be sharing it this weekend.
Week 6 Workout Schedule:
Full Body Sculpting Workout + 30-Minutes of Easy Cardio
20-Minute Fat Burning, Tummy Sculpting Workout + Moderate Intensity Cardio
Interval Cardio Day
Arms/Back + 30-Minutes of Easy Cardio
Rest Day
Full Body Workout+ Easy Cardio
Have fun with today's workout!
Melissa
PS You can find me on Instagram, Twitter, Snapchat & Pinterest: @BenderFitness and on Facebook: @MelissaBenderFitness
Jesse is on Instagram: @BenderCrosby1
10 seconds Rest, 50 seconds Max Effort

1. High Knees or Jump Rope
2. Surfer Burpee
3. Side Kick Hop (right)
4. Side Kick Hop (left)
5. Mountain Climber
6. Lunge Jump
7. Squat Jump
8. Russian 
9. Frogger
10. High Knees
Repeat 1-3X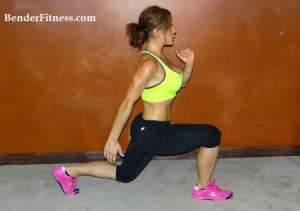 All Levels: Max Reps during each 50 second interval, 10 seconds of rest between exercises. Followed by 1 mile run, or 5-10 minutes of cardio of choice. 

1. Frog Hopper
2. Curtsy Lunge Twist (right)
3. Bicycle Abs
4. Curtsy Lunge Twist (left)
5. Jumping Jack Pushup