Hi Everyone!
If you like rich, delicious, fudge-like chocolate brownies you are in for a treat! This recipe is so good, and it's a healthier way to indulge your sweet tooth! I served these to several friends, without telling them the secret ingredient, and they had no idea they weren't eating "regular" brownies. In fact, everyone had at least two brownies, because they liked them so much!
The brownies have a thick, chocolatey texture, and cut beautifully. In fact, they get even more rich and delicious when you refrigerate them before serving!
Jesse ate the last of these brownies yesterday, and immediately wanted me to make more. I offered to send a dish of brownies to work with him, but he declined because he didn't want to share (don't tell his co-workers!)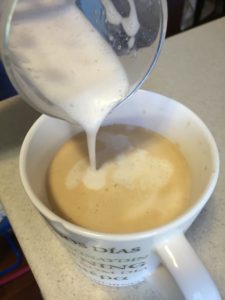 I like my brownies with a delicious cup of coffee, and Jesse likes to pair his with a glass of unsweetened vanilla almond milk.
Sometimes you just want to have sweets. I like to make my desserts healthier without skimping on the flavor. You won't be able to stick to a healthy diet if you aren't enjoying what you are eating.
I hope you like the recipe! If you try it, tag me in your photos, or let me know if you tried any different modifications to the recipe. It would also be delicious topped with some walnuts. Jesse loves chocolate and raspberries, so I may have to see if I can make a raspberry drizzle to try this with.
Melissa
PS A New workout video will be up today. If you didn't try the new one I posted yesterday you can find it here: 20-Minute Fat Burning, Tummy Sculpting Workout.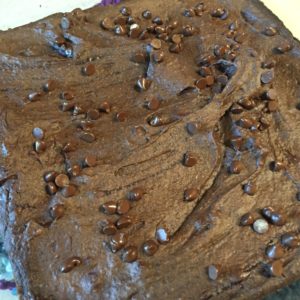 Ingredients: Makes 8-10 Brownies
-1 can (15 oz) Black Beans (well rinsed and drained) (about 1 1/2 cups)
-2 Tablespoons Cocoa powder
-1/2 cup Quick Oats
-1/3 cup honey (agave or maple syrup can also be used)
-1/4 teaspoon salt
-pinch of stevia
-1/4 cup coconut oil
-2 teaspoons vanilla extract
-1/2 teaspoon baking powder
-1/2 cup chocolate chips (plus a few more to sprinkle on top of the brownies)
Optional Ingredients for PB topping:
-1/4 cup natural Peanut Butter or nut butter of choice (You can also omit the ingredients below and just drizzle plain natural PB over the top of the batter before baking)
-2 Tablespoons Unsweetened Vanilla Almond Milk
-Pinch of Stevia in the Raw
Directions: 
Preheat Over to 350 degrees F.
Combine all ingredients for Brownies, except chocolate chips in a Food Processor. Do not put in PB topping ingredients. Process until smooth (it will take a while!) Stop and check it, and push down any of the dry ingredients on the side of the food processor to make sure you are getting a nice texture for your batter.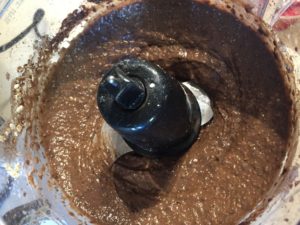 When smooth texture has been reached fold in chocolate chips.
For thicker brownies use 8 X 6 inch baking pan. For thinner brownies use 8 X 8 inch baking pan. Grease pan, and pour in batter.
Optional Step for Peanut Butter Topping: In a separate bowl combine PB, Stevia, and almond milk. Mix until crumbly texture is achieved. Distribute evenly over the top of the brownie batter. If using plain Peanut Butter, drizzle over batter with a spoon.
If desired sprinkle with additional chocolate chips.
Bake for 18-minutes. For thicker brownies increase to 20-minutes. Let cool 10-15 minutes before cutting. If the brownies appear undercooked don't worry! Let them cool in the fridge and they will firm up to have a rich, decadent, fudge-y texture.
Nutrition Information Obtained from Inputting Recipe into MyFitnessPal:
When cut into 10 servings Without PB Topping: 
Calories: 163
Fat: 7g
Carbs: 22g
Fiber: 6g
Protein: 4g
With PB Topping:
Calories: 244
Fat: 12g
Carbs: 28g
Fiber: 7g
Protein: 6g