Hi Everyone!
Are you ready to workout today? It's a core day, and this workout has some very fun and effective moves to work your core from every angle. I use a bench and stability ball in this workout, but if you don't have access to equipment don't worry! There is always a way to modify the workout & I demonstrate variations in this workout video.
You have a few options on ways to breakdown your workout (for time or reps), listed below with the exercise list. If you're up for it try a round of each style. Pay attention to which technique feels more difficult for you. Everyone is different, and you may be surprised by which challenges you most.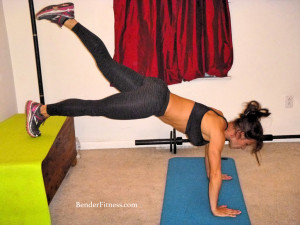 I wanted to remind everyone that my new workout program is still scheduled to start on Sunday August 21st, with my latest DietBet Challenge starting on Monday August 22nd. You can sign up for the DietBet Challenge here: www.dietbet.com/BenderFitness.
The DietBet is for those of you looking for some extra incentive to lose weight. People who made bets on their ability to lose weight in my past challenges were very successful. Plus everyone who meets their goal wins money in the bet! As an added bonus, BenderFitness receives some profit for running the game, and that helps offset some of the costs of running a website (website hosting, equipment, etc), and keeps us able to provide free workouts.
I hope everyone enjoys today's workout. I am feeling so much better today (for anyone who didn't know I was in the ER twice last week, and admitted to the hospital due to abdominal pain). I have follow up appointments to make this week, and am waiting for the doctor's offices to call me back, but I feel like I am headed in the right direction health-wise.
Have fun!
Melissa
PS You can find me on Facebook: @MelissaBenderFitness and on Instagram, Pinterest, Twitter & Snapchat: @BenderFitness
Jesse is on Instagram: @BenderCrosby1
Equipment: Stability Ball, hand weight or kettle bell. I also show variations with no equipment.
Timed: Max reps during each 60 second interval. Keep rest breaks between exercises to a minimum.
or
Beginner: 10 reps
Intermediate: 15 reps
Advanced: 20 reps
Repeat 1-3X
1. Butt Lifts
2. Reverse Situp (with or without weight)
3. Decline Spiderman
4. Hip Drop (right)
5. Hip Drop (left)
6. Heel Tap Prone
7. Heel Tap Supine
8. Stability Ball Backbend
9. Down Dog Cross
10. Side Plank Reach Through (right)
11. Side Plank Reach Through (left)
Repeat 1-3X