Good Morning Everyone!
It's Workout Time! Today's workout combines cardio sculpting and cardio fat burning. Effective core workouts need to work your midsection from every angle. As you can see in the photo below, the core is made of several different muscles. If you look at the muscle fibers, you can see the direction of movement each muscle is responsible for: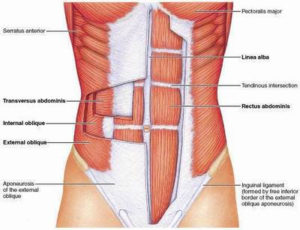 The rectus abdominus muscle fibers run vertically and are responsible for movements like crunches,
The transverse abs run horizontally and are responsible for twisting and turning motions.
The obliques run at an angle, and utilize a combined motion to maximize activation.
This is a simplified description of muscle movements, but I am sharing this to show why incorporating a range of core movements is important to maximize results in the midsection. Core strength is your support for your back, and helps maintain hip alignment. A strong core helps you maintain form for every exercise you do.
I hope you enjoy today's workout! It's a throwback from my HIIT the New Year Hard Workout Challenge. My BRAND NEW workout challenge starts on Sunday August 21st! My DietBet Challenge starts on Monday August 22nd. It's not to late to sign up: www.DietBet.com/BenderFitness.
I am starting to film workouts this week for the new challenge! So excited! Have fun with today's routine!
Melissa
PS You can find me on Instagram, Snapchat, Twitter & Pinterest: @BenderFitness and on Facebook @MelissaBenderFitness
Jesse is on Instagram: @BenderCrosby1
Click the link to get your own Gymboss Interval Timer!

Set your Interval Timer for 15 rounds of 30/50 seconds. 
*Cardio
1. Extended Double Crunch
   *Cardio
2. Reclined Knee Twist (right)
   *Cardio
3. Reclined Knee Twist (left)
   *Cardio
4. Temple Tap Abs
   *Cardio
5. L-Lean
   *Cardio
6. Dive Bomber
   *Cardio
7. Single Heel Press Plank (right)
   *Cardio
8. Single Heel Press Plank (left)
   *Cardio
9. Elbow Tap Side Plank or Reach Through (right)
   *Cardio
10. Elbow Tap Side Plank or Teach Through
   *Cardio
11. Twisted Star Fish Situp
   *Cardio
12. Leg/Hip Lift
   *Cardio
13. Oblique Pushup
   *Cardio
14. Superman
   *Cardio
15. Bridge Kick (alternating)

Repeat 1-3X