Good Morning Everyone!
It's workout time again, and I am excited to bring you a brand new workout. I'm only 1-week postpartum so I won't be teaching new workouts for a little while, so Jesse stepped out in front of the camera again for today's workout. I can't wait until I am cleared for exercise, but I am enjoying just focusing on my newborn baby right now.
This is a full body dumbbell workout, designed to build strength and power while sculpting your body. Jesse is a runner, so for him it's important to maintain lean muscle mass without adding bulk. When you are running 5-minute miles having too much muscle mass will just slow you down. However, to little muscle on runners leads to injury, poor form, and decreased endurance.
Today's workout is completed for repetitions instead of intervals. Select the level that is most appropriate for you. If you don't have dumbbells you can complete the exercises without them, but the added resistance really increases the intensity. When selecting a dumbbell you want to choose a challenging weight. The last few repetitions should be tough to complete, but you should be able to do it while maintaining form.
We hope that you enjoy today's workout! Let us know what you think on Instagram: @BenderFitness & @BenderCrosby1 or on Facebook @MelissaBenderFitness
See you soon!
Melissa, Jesse & Maverick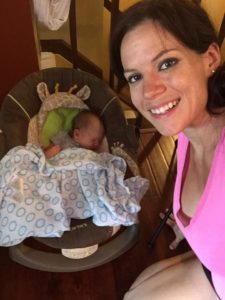 Equipment: Dumbbells & a Chair or Bench you can step on safely.
Level 1: 10 Reps
Level 2: 15 Reps
Level 3: 20 Reps
Romanian Deadlifts
Squat & Press
Rock the Boat with Weight
Bent Over Rows
Step Ups-Right
Side Plank with Weight-Right
Step Ups-Left
Side Lunge Wood Chopper-Right
Side Plank with Weight-Left
Side Lunge Wood Chopper-Left
Decline Spiderman Pushups
Repeat 1-3X
Optional: Pair with 30-Minutes Cardio of Choice