Good Morning Everyone!
It's workout time again! Today's workout is a throw back to the series I hosted with BodyRock. For this workout you will need dumbbells or a barbell. In the video I use the T-Bar, which is available on BodyRock's website.
This routine will work your entire body, but it definitely focuses on shaping and sculpting your lower half. These exercises are great for sculpting a round booty, and strong/lean, shapely thighs.
You can repeat this routine up to 4X or pair it with another workout of choice. Yesterday's workout was: 15-Minute Tight Core: Body Weight Workout.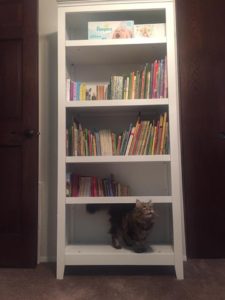 Yesterday I built the Book Case for the nursery. As you can see, Buffy was excited that I left a little space open for her on there. Slowly but surely things are coming along. My baby shower is on Saturday so I will be focusing on finishing up the nursery after that. Less than 5-weeks to my due date!
I hope you enjoy today's workout!
Melissa
PS You can find me on Instagram & Twitter: @BenderFitness and on Facebook: @MelissaBenderFitness. Jesse is on Instagram: @BenderCrosby1
Set your interval timer for 9 Rounds of 30/50.
*30 Seconds of Squat & Press Between Each Exercise.
Prone Heel Tap
Goddess Reach-Right
Goddess Reach-Left
Forward/Back Lunge Hop-Right
Forward/Back Lunge Hop-Left
Prone X-Reach
Sumo Squat Hop-Right, Left, Hop
Bridge Hopper-Right
Bridge Hopper-Left
Repeat 1-4X