Hi Everyone!
It's workout time! Today's workout is an oldie, but a goodie. I had originally filmed this workout as a tutorial, but I got a lot of requests to complete a full length video version of the workout. This is a full body workout, that mixes timed exercises with repetitions. I also encourage you to time the entire workout to see how long it takes you to get through each round. Timing yourself is a grew motivator to really push, keep rest breaks at a minimum, and see improvement when you repeat this workout in the future.
If you come across one of my older workouts that is in tutorial form, that you would love to see as a full length workout let me know! Today is a Boot Camp Day for Jesse and I. We teach our group Boot Camp HIIT class. We will be doing 40-Minutes of HIIT, plus a 10-minute warm up and 10-minute cool down.
One of my students asked me last week if I was going to workout through my entire pregnancy. The answer is Yes. As long as I don't have any complications or reasons to stop I will be working out throughout my entire pregnancy. I am now over 5 months pregnant, and my belly seems to be growing by the day so I will continue to progress with modifications.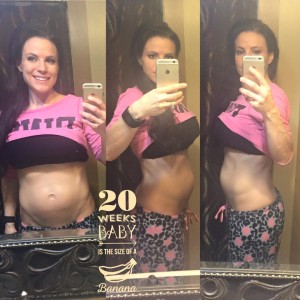 I will actually be 21-Weeks tomorrow, but here is my 20-week, 4 day Baby Bump photo.
Have fun with today's workout!
Melissa
 Ultimate Body Weight Workout 
 Beginner: 10 reps, 30 seconds timed exercises 
 Intermediate: 15 reps, 45 seconds 
 Advanced: 20 reps, 60 seconds 
 *Unless otherwise noted 

1.  Burpee (Beginner: 5, Intermediate: 8, Advanced: 10 reps) 
2. 1 Leg Jumping Pushups (Beginner: 5, Intermediate: 8, Advanced: 10 reps) 
3. High Knees (timed) 
4. 1 Leg Squat Right (Beginner: 5, Intermediate: 8, Advanced: 10 reps) 
5. 1 Leg Squat Left (Beginner: 5, Intermediate: 8, Advanced: 10 reps) 
6. Lunge Jump (timed) 
7. Mountain Climber (timed) 
8. Bow Pose Kicks/Prone Hamstring Curls (Beginner: 15, Intermediate: 25, Advanced: 30 reps) 
9. Jump Squats (timed) 
10. Runners Lunge to Balance/Warrior 3 (right) 
11. Runners Lunge to Balance/Warrior 3 (left) 
12. Pendulum Squat 
13. Oblique Drop (right) 
14. Oblique Drop (left) 
15. Plie Jumps (timed) 
16. Side Plank with Leg Lift (right) 
17. Side Plank with Leg Lift (left) 
18. 3 Part Abs 
19. High Knees 
20. Diagonal Lunge Reach 
21. Burpees (Beginner: 5, Intermediate: 8, Advanced: 10 reps)