Hi Everyone!
Welcome to Day 20 of my 4-Week Challenge! I can't believe we are almost done with Week 3 already!  Time is flying by!
For today's challenge we are combining a Sweaty Cardio HIIT workout & a Body Weight Rep challenge. Aim for 30-60 Minutes of total workout time. Challenge yourself to get in as many reps as possible during the cardio burn. Always focusing on doing each exercise with good form.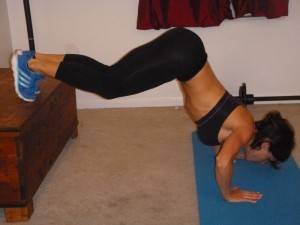 Both of today's workouts are challenging, but you have already been prepping for this for 20-days and I know you can handle it! Let me know what you think of the workouts in the comments below, on Instagram or Twitter: @BenderFitness or on Facebook: www.facebook.com/MelissaBenderFitness.
Enjoy! See you this weekend with some brand new workouts!
Melissa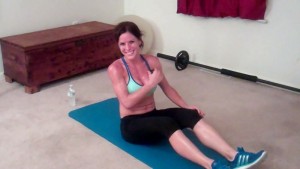 All Levels: Maximum number of reps during each 50 second interval, 10 seconds of rest between exercises. You can lower this to 20 seconds of work, and 10 seconds of rest if this is too much to start with. Also, always listen to your body. If you need a break take one. Keep track of your reps, and you will be able to see how much you improve as you repeat this workout. 
Equipment: None
1. High Knees
2. Frogger
3. Lunge Kick (right)
4. Lunge Kick (left)
5. Jumping Jacks
6. Jump Squat
7. Mountain Climbers
8. Plie Jump
9. Plank Jack
10. Ninja Jump
11. Burpee
12. Low Jack
13. Side Step Up (right)
14. Side Step Up (left)
15. Twister
Repeat 1-3X
Beginner: 10 reps
Intermediate: 15 reps
Advanced: 20 reps
Equipment: Bench or Chair & Stability Ball
1. (Almost) Handstand Push Ups
2. Seated Leg Lift (right)
3. Seated Leg Lift (left)
4. Prone Heel Press
5. Right Side Lunge with Knee Twist
6. Left Side Lunge with Knee Twist
7. Boat Pose
8. Right Side Plank Hip Lift
9. Left Side Plank Hip Lift
10. Ab Ball Pull
11. Butt Lift Ball
12. Plank Chest Press
Repeat 1-3X