Hi Everyone!
I hope you all had a fantastic Christmas & Holiday Season! Jesse and I have one more holiday celebration to attend today, with his grandmother. Tonight I am planning on filming a new workout. I love the holidays & all of the time spent with family, but I am missing my workout routine.
We have been so blessed to have 4-days of celebrating with different parts of the family. I have not gotten in any formal workouts in those 4-days, but I snuck in some squats, legs series, and transverse ab squeezes whenever I had time.
Tonight it will be back to a more organized workout! In the mean time I have two older workouts for you. I have a quick Arms & Back Workout, and a Standing Lower Body Workout. For the first workout you need dumbbells, and a pull-up bar (if one is available). For the second workout you need a chair, bench or step: something sturdy you can step up onto.
Also, don't forget, my DietBet Challenge starts on January 3rd. If one of your goals is to lose weight in the new year you can sign up at www.dietbet.com/BenderFitness. The way it works is: you place a bet, the goal is to lose 4% of your body weight in 4 weeks, all the bet money goes in the Jackpot, if you achieve your goal you are a winner and you split the jackpot. It is a great motivator. I have hosted two games in the past, and the participates had fantastic results.
I hope you enjoy today's workouts and that you had a fabulous holiday!
Melissa
Click the link to get your own Gymboss Interval Timer!

10-12 Reps Per Exercise
1. Pull-up/Bent Arm Hang
2. Bicep Curl
3. Tricep Drop
4. Plank Row
5. Shoulder Press
6. Decline Push-up
7. Dip
8. Tricep Push-up (right)
9. Tricep Push-up (left)
10. Walk the Plank
11. Chest Press Plank to Down Dog
Optional: *Bonus: Backbend Push-up*

Repeat Workout 1-3X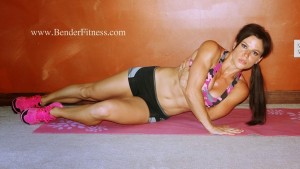 Intervals: 15 Rounds of 10/50
Reps: Beginner: 10; Intermediate: 15; Advanced: 20
Step Up with Kick Back-Right
Step Up with Kick Back-Left
Side Step Up-Right
Side Step Up-Left
Split Squat-Right
Split Squat-Left
Half Moon-Right
Half Moon-Left
Leg Raise-Right
Leg Raise-Left
Standing Leg Circles-Right
Standing Leg Circles-Left
Standing Knee Circles-Right
Standing Knee Circles-Left
Sit to Stand-Alternating
Repeat 1-3X
Optional: Pair with 20-30 Minutes Cardio of Choice