Hi Everyone!
Today we are starting out with a 10-Minute Standing Workout to challenge your Abs, Thighs & Butt. This is a great workout to do if you are someplace you don't want to get down on the floor, or if you don't have a lot of space. It's easy to do indoors or outdoors.
This workout is low impact for your joints, but very effective. I utilized the Double Knee/Elbow Tap you see in this workout during my boot camp class this week, and everyone found it very challenging! (That means that you will be seeing that move again very soon, when I film that Boot Camp video to share with you all).
When I filmed this workout I paired it with a 5-Mile Run outside, so I only went through one round. You can repeat this workout up to 4X, and you have the option of pairing it with cardio for a Bonus Fat Burn.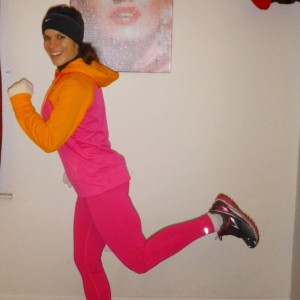 If you are repeating and adding cardio, aim for up to 60-Minutes total workout time. You can split that up which ever way works for your body. Three Rounds of this workout would take 30-Minutes, plus a 30-Minute Walk or Run would bring your total workout to 60-Minutes.
I have been MIA with new workouts lately. Working full time plus teaching Boot Camp and Yoga each week has left me feeling tired, so I eased off a bit to give my body a break. I apologize for the lack of new workouts, but I will be filming today. The good thing about having this website, is that I have filmed over 700-Workouts, so there is always something to share with you!
I have a busy afternoon/evening, so I will try my best to get a workout posted tonight, but if I don't I will have it up early tomorrow morning.
Have fun with this one!
Melissa
Fit Fashion: www.Affitnity.com 15% off your total purchase with the code BenderFitness at checkout
Click the link to get your own Gymboss Interval Timer!
Set your timer for 10 rounds of 10/50
1. Standing Kick
2. Table Kick (right)
3. Table Kick (left)
4. Double Elbow/Knee Tap (right)
5. Double Elbow/Knee Tap (left)
6. Figure 4 Extension (right)
7. Figure 4 Extension (left)
8. 90 Degree Knee (right)
9. 90 Degree Knee (left)
10. Forward Fold Reach
Repeat 1-4X