Hi Everyone!
This routine also incorporates some great movements for strengthening your core. Why so many core exercises? A strong core helps power your movements and preserve the proper biomechanics for all of the lower body exercises.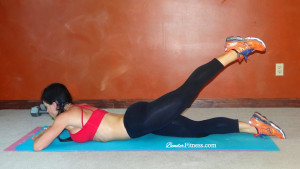 These lower body exercises are designed to work your butt from every angle to lift and shape your backside. When combined with a healthy diet and enough sleep, exercises to sculpt your glutes are one of the most efficient ways of reducing (or eliminating!) cellulite. The large muscles of the lower body also burn a lot of calories, and can help you improve your metabolism and burn more fat all over your body.
As always the workout is below!
Melissa
Fit Fashion: Spiderback Sports Bra is From
www.Affitnity.com
Use the code BenderFitness to get 15% off your total order at checkout. Sneakers: Mizuno Wave Creation.
Click the link to get your own Gymboss Interval Timer!
This workout can be performed as a HIIT 15 round 10/50 workout
I completed this workout for Reps.
Beginner: 10 reps
Intermediate: 15 reps
Advanced: 20 reps
1. Lunge Kick Switch
2. Warrior Deadlift (right)
3. Warrior Deadlift (left)
4. Pretzel (right)
5. Pretzel (left)
6. Side Squat Lift (right)
7. Side Squat Lift (left)
8. Kneeling Side Kick (right)
9. Kneeling Side Kick (left)
10. Down Dog Hop (right)
11. Down Dog Hop (left)
12. Plie Jump
13. Prone Leg Lift (right)
14. Prone Leg Lift (left)
15. Goddess Heel Lift
Repeat 1-3X