Hi Everyone!
Today's workout is focused on working your core. This routine will work your abs from every angle-front, sides and back. It is designed to help strengthen and tighten your mid-section. I also incorporated movements to work your lower back, and upper glutes, because maintaining strength/balance in this area significantly impacts the results you are going to get in your midsection. A strong back helps you maintain alignment through your hips, and improves your posture.
During core exercises you should focus on keeping the core strong and engaged the entire time. You can do this by pulling your stomach muscles in & keeping them tight. You should still be able to breath, but engaging your core in this way will work your transverse abs. You can think of the transverse abs as an internal corset. They work across your midsection, horizontally, and act as an internal corset, pulling your waist in.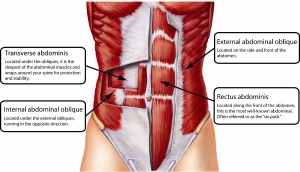 You can see in the picture above, that the muscle fibers in each muscle group of your core move in different directions. This is why it is so important to work in each plane of movement (horizontally, vertically & twisting) to engage each section of the core and maximize your results.
Have fun with today's workout! Let me know what you think of it!
Melissa
Intervals: 12 Rounds of 10/50.
Reps:
Beginner: 10 Reps
Intermediate: 15 Reps
Advanced: 20 Reps
Knee Plank Series (right)
Knee Plank Series (left)
Temple Tap Abs
Hip Drop Side Plank (right)
Hip Drop Side Plank (left)
Cobra Lift
Rainbow Plank (right)
Rainbow Plank (left)
V-Up
Side Plank Leg Series (right)
Side Plank Leg Series (left)
Reverse Plank Leg Lift
Repeat 1-3X (Photo Tutorial Below)
Optional: Pair with 10-30 Minutes of Cardio. Jump Rope Option Below.
Equipment: Gymboss Interval Timer set for 10 Rounds of 10/50 and a Jump Rope
1. Jump Rope
2. High Knees
3. Jumping Jack
4. Skier
5. Single Leg Hops (5 per leg, alternating)
6. Jump Rope
7. High Knees
8. Jumping Jack
9. Skier
10. Single Leg Hops (5 per leg, alternating)
Repeat 1-3X