Hi Everyone!
Today's workout is a throwback workout (the video is below). It was Day 2 of my  30 Day Workout Challenge. The focus of the challenge is completing a minimum of 15 minutes of exercise per day for 30-days. I will be filming a new workout today.
First I am headed to a family brunch, so it won't be posted until a bit later. For those of you who prefer to workout in the AM, I think you are going to enjoy this workout!
If you want to start with Day 1 of the 30-Day Challenge you can find that here: Day 1: 15 Minute HIIT Core Fat. 
This workout is a 20-Minute Interval Workout. I modified this workout from one I did with my Boot Camp Class. Cardio bursts are interspersed with longer intervals for maximum repetitions. The workout has three sections: lower body, core and arms. This routine will work your entire body and burn fat at the same time.
For your cardio you can do: jumping rope, high knees, jumping jacks, froggers, or cardio of your choice. When I filmed this workout I followed it up with a run on the treadmill for a bonus cardio burn.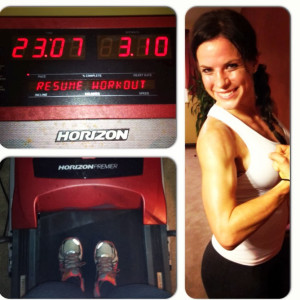 I took yesterday off from filming because I did an evening 5K. For me I was focusing on running the race based on how my body was feeling and ignoring my watch. Sometimes when I check my watch to much during a race I end up running an interval workout and wearing myself out by training to speed up or slow down to maintain a specific time. I wasn't expecting to win anything, but I came home with a medal!
Our friend, Wes, won first place overall. Wes and Jesse have been training together, and Wes has been putting in some amazing running and great times! Jesse had to sit this race out due to tightness in his left glute/hamstring. He wasn't happy about missing the race, but better a missed 5K than a lingering injury! We are focusing on stretching. I will be sharing that routine.
I hope you all enjoy the workout!
Melissa
30/50: 30 seconds cardio, 50 seconds max reps

-Cardio
1. Surfer Burpee
-Cardio
2. Lift to Side Lunge (right)
-Cardio
3. Lift to Side Lunge (left)
-Cardio
4. Tuck Jump
-Cardio
5. Lunge Jump
-Cardio
6. Down Dog to Knee Drop Plank
-Cardio
7. Leg/Hip Lift
-Cardio
8. Mountain Jumper
-Cardio
9. Bicycle
-Cardio
10. Frog Hopper
-Cardio
11. Rotating Push Up
-Cardio
12. Reverse Forearm Plank
-Cardio
13. Burpee
-Cardio
14. Tricep Push Up (right)
-Cardio
15. Tricep Push Up (left)