Hi Everyone!
I sent out a call for Healthy Recipes recently, and Melody from www.TheMelodyofCooking.com responded! She has so many delicious recipes it was hard to choose just one to share with you all!
This Paleo Balsamic Grilled Chicken Recipe is on my menu, but I will also be trying the Acorn Squash Turkey Burgers in the near future.  I love food, and I love delicious, healthy eating. This recipe qualifies as both Healthy & Delicious, so if you like it be sure to check out her site. She is also on Instagram as @MelodyOfCooking.
Big thanks to Melody for sharing this recipe with us!
Enjoy!
Melissa
Cauliflower Mash: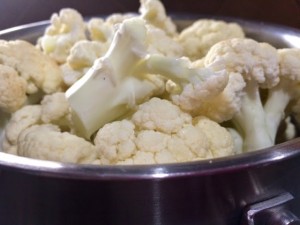 1 Head of Cauliflower
Salt and Pepper
Grated Nutmeg (whole nutmeg has the best flavor)
(Optional: You can add Greek Yogurt for Creaminess, however, adding dairy would disqualify this as being Paleo).
Steam or boil the cauliflower until tender. Then puree with your food processor. Or you can mash with a potato masher.
Season to taste with salt, pepper, and nutmeg.
Balsamic Grilled Chicken: 
4 Skinless Boneless Chicken Breasts
1/4 cup Balsamic Vinegar
1/2 cup Extra Virgin Olive Oil
Salt and Cracked Black Pepper
1 cup of Simply Balanced Organic Roasted Vegetable Pasta Sauce (Or sauce of choice)
Poke a few holes in the chicken breasts with a fork. Kind of like piercing potatoes before baking. This helps the marinade get all down and dirty in the chicken.
Mix the balsamic and extra virgin olive oil together. Pour over chicken breast. Let marinate for about 15 minutes.
Preheat your grill or grill pan to a moderate high heat. Not smoking hot. And not medium high. Somewhere in between those worlds.
Sprinkle chicken with salt and pepper. Grill for about 3 minutes per side. Just to get some grill marks and a sear on the meat.
Preheat a sauté pan to medium heat. Add the roasted vegetable sauce to a sauté pan along with chicken breasts. Now cover and lower heat to a simmer and continue to cook for about 10 minutes.
Side of Grilled Asparagus
1 lb fresh asparagus, washed and trimmed
1 tbsp extra virgin olive oil
Lemon juice
Salt and pepper
Just trim the ends. Toss them in a little extra virgin olive oil. Sprinkle with salt and pepper, squeeze a little lemon juice over. Grill for about 5 minutes. Turning halfway through.
**if your asparagus is thicker, just cook longer.**
Serve the chicken on top of Cauliflower Mash with a side of fresh grilled asparagus! Perfectly simple dinner party food. Or just a quick weeknight dinner.
Ta Da! Dinner is served!