Hi Everyone!
Are you ready for a new workout? One round of today's workout takes 15 Minutes. I love quick, intense workouts. It makes it so much easier to fit working out into your schedule. You can keep it short (but intense) and push hard for one round, or you can repeat this workout to increase the burn and intensity.
In this workout I used a yoga mat and a chair. You can use a chair, bench or step for the dip and decline pushups. If you don't have access to a chair you can perform the movements from the ground.
Remember, there is always a way to modify a workout. Push yourself to get in as many reps as you can (with good form!)
Have Fun with Today's Workout!
Melissa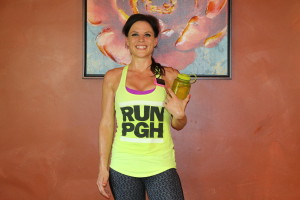 Set your Interval Timer for 15 Rounds of 10/50.
Squat Jump
High Knees
Low Jack
Side Plank Reach-Right
Side Plank Reach-Left
Single Arm Burpee
Sumo Squat Twist-Right
Sumo Squat Twist-Left
Curtsy Lunge
Dips
Decline Shoulder Tap Pushup
Reverse Plank Leg Lift
Low Jack
High Knees
Squat Jump
Repeat 1-4X