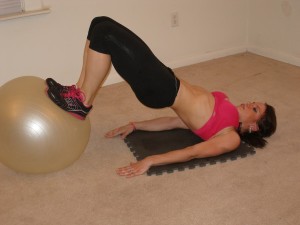 Hi Everyone,

This is a throwback Thursday workout (circa 2012)! I filmed a new workout, but it won't be up until late this evening so check back tonight or tomorrow.  

This is a good fat burning workout, there is cardio in between each rep. Be sure to give this workout your all, and repeat it if your body can handle it!

Jesse and I will be filming our Q & A response video tomorrow. We are picking several questions to answer, so if you posted a question on my Facebook page: www.facebook.com/MelissaBenderFitness be sure to check in to see if we answered your question. 

I am off to work! See you all tonight! 

Enjoy! Push hard and get sweaty!
Melissa
Click the link to get your own Gymboss Interval Timer! 
Beginner: timed exercises 30 seconds, 10 reps
Intermediate: 45 seconds, 15 reps
Advanced: 60 seconds, 20 reps
(jump rope and high knees are both timed). 

1. Jump Rope
2. Heel Touch Squats
3. High Knees
4. Bulgarian Split Squat (right)
5. Jump Rope
6. Bulgarian Split Squat (left)
7. High Knees
8. Decline Pushup with ball
9. Jump Rope
10. Ball Pull In (Hamstring Curl)
11. High Knees
12. 3-Part Abs
13. Jump Rope
14. Cheek to Cheek Plank
15. High Knees

Repeat 1-3X