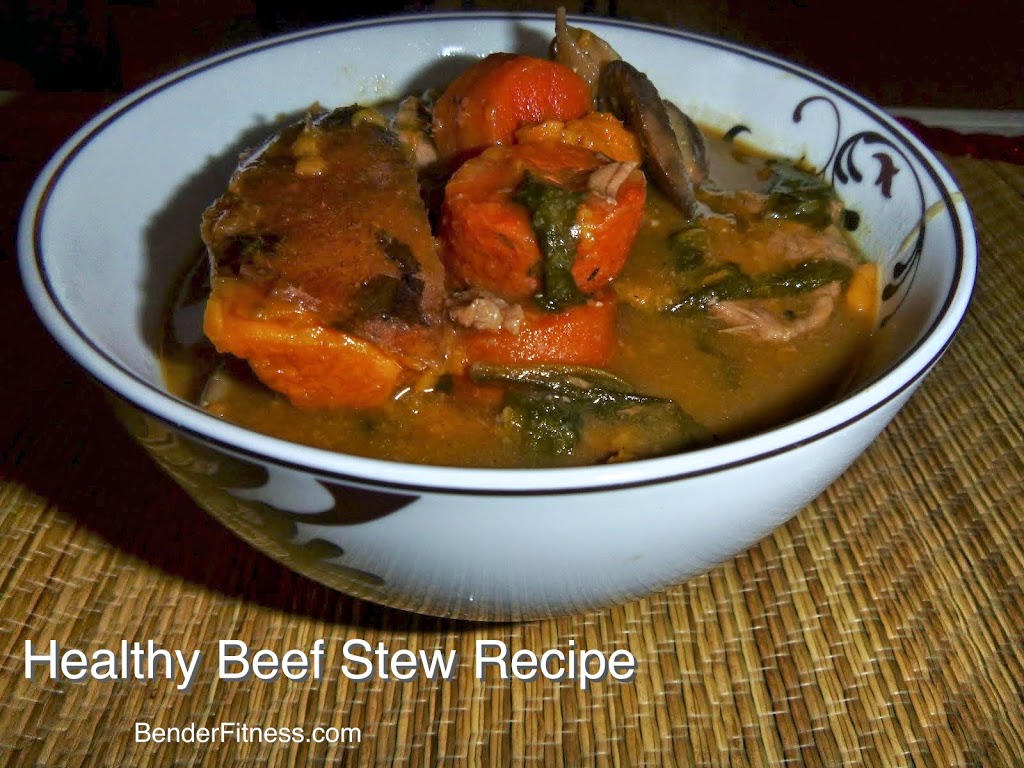 When the weather gets colder I find myself craving meals that are warm and hearty. Beef Stew is a delicious meal, that meets both of those criterion. Plus, it's easy to make!
This recipe is high in nutrients. You should be having 5-6 cups of red/orange vegetables per week! Carrots and Sweet Potatoes are high in Vitamins A, C, Fiber and Potassium. Spinach is high in vitamins and antioxidants, and is a natural anti-inflammatory. Spinach has been shown to effectively lower blood pressure. All of these vegetables help protect your vision, and skin. So what's not to love about this combination? 
I hope you all enjoy the recipe!
Makes 4 Large Servings, or 6-8 Smaller Servings
For this recipe I used:
1 Container Swanson 100% Natural Beef Broth with 50% Less Sodium (contains 4 cups)
3 Medium Sweet Potatoes
3 cups Raw Spinach
3 Medium Carrots
1/2 cup fresh mushrooms, sliced
1.25 pounds Beef Stir Fry Meat
1 teaspoon fresh garlic
Extra Virgin Olive Oil (less than a teaspoon)
Fresh Ground Black Pepper (to taste)
Fresh Ground Sea Salt (to taste)
Italian Seasoning (to taste)
Thyme (to taste)
1 Tablespoon All Purpose Flour
1 Tablespoon Whole Wheat Flour
1/4 cup Water
Step 1:
Cut Beef into 1/2 to 1 inch cubes.
In a large pot use a touch of Extra Virgin Olive Oil and a teaspoon of fresh garlic. Turn stove on to medium heat. Add beef and cook until browned. Add desired seasoning at this point.
I used a bit of fresh ground pepper, fresh ground sea salt, Thyme, and Italian Seasoning. 
Step 2:
Add the entire container of Beef Broth. Cover, and bring to boil. Reduce heat to low, and cook for 90 minutes. 
Step 3: 
Cut vegetables to desired size. Add all vegetables to the broth and re-cover. Cook for an additional 30-60 minutes on low until vegetables are tender. 
Step 4:
Increase heat to medium. Mix flour and water in a bowl, and add slowly to broth. Stir to thicken. 
Step 5: 
Stew is ready to serve! Enjoy!