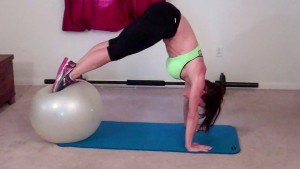 Hi Everyone,

Today's workout is a tough one! I was super sweaty, and definitely felt like I worked my entire body. I went through the entire workout twice. I used my stability ball, and a kettle bell, but the workout can also be done with body weight only. 

Body Weight Modifications:
-Ball Pass: can be done with no ball, just be sure to count the reps the same way you would with a ball. 
-Chest Lift: can be done lying on the floor on your stomach with your toes pressing into the ground. Just your upper body, and squeeze your glutes, while keeping your hip bones in contact with the ground. 
-Ball Pull with Straight Legs: you can substitute Donkey Kicks or Frog Jumps for this exercise. I meant to demonstrate this in the video, but I got caught up and forgot. (sorry!) 
-Butt Lift and Tap: Lay on the floor on your stomach, hips touching the ground. You can rest your forehead on your arms. Lift your legs and feet so that your knees are off the ground and tap. You can do reps by lowering and lifting your legs, or do this as a timed exercise instead. 
-Split Squat: This can be done without weights, as a body weight exercise. 

Jesse and I are currently in Toronto. We are filming 10-Workouts for a 10 Week Series with BodyRock.tv. We are having a great time so far, and everyone has been wonderful! We have already filmed two challenging workouts. 

I have seen a lot of really excited and supportive comments regarding my collaboration with BodyRock. I have also seen some people are upset with my decision. I think there is some confusion regarding what I am doing with BodyRock. 

BenderFitness is still my blog. I am not going to stop posting workouts here. What you see every day when you come to my channel is what you will continue to see, and my workouts will continue to be free. I wrote the workouts that I am filming with BodyRock. I am wearing all of my own clothing that you normally see on my blog. 

I know what I am comfortable with, and what I am not comfortable with and I won't be crossing that line. Jesse and I have been treated with respect and kindness by Freddy and the whole BodyRock team. No one has asked me to do anything outside of what I normally do when I film workouts at home. I look forward to sharing the workouts I am filming here with all of you! I'm proud of the work that we are doing here, and I really think you are going to like this collaboration. It is a lot of fun for me to be filming in a new location and getting to focus purely on the workouts. 

Normally my schedule is: work 40 hours per week as an Occupational Therapist, teach classes 2 nights per week (Bootcamp and Yoga), do/film all of my workouts, and then process, upload, write and post everything on my blog. I absolutely love sharing my workouts with you and I have no complaints about the time that goes into it. This is my passion and I love helping people create healthy lives. It is really interesting for me to collaborate with other people who do what I do. 

When I get back home I will be filming more brand new routines! 

Hopefully, that puts some of your minds at ease! 

Enjoy the workout!
Melissa

Facebook, Instagram, or Twitter.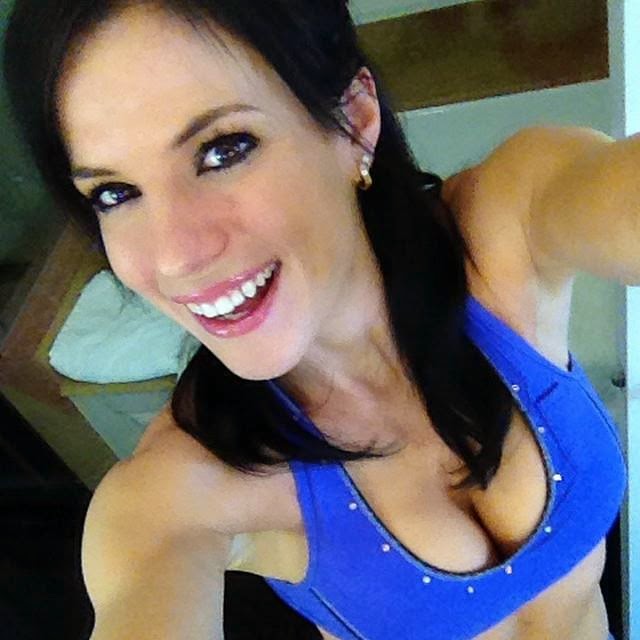 Beginner: 10 reps, 30 seconds
Intermediate: 15 reps, 45 seconds
Advanced: 20 reps, 60 seconds

Repeat 1-2X. I went through twice, the second time with no modifications. The first time through I started losing form on the decline pushups so I complete the last five without the decline. Remember, form is always number one! See my note above for modifications if you don't have a stability ball. 

1. High Knees (timed)
2. Ball Pass
3. Chest Lift
4. Ball Pull with Straight Legs
5. Butt Lift and Tap
6. Squat Jump
7. Side Plank Pushups
8. Tick Tock Abs
9. Mountain Climber (timed)
10. Split Squat (right)
11. Split Squat (left)
12. Decline Pushups