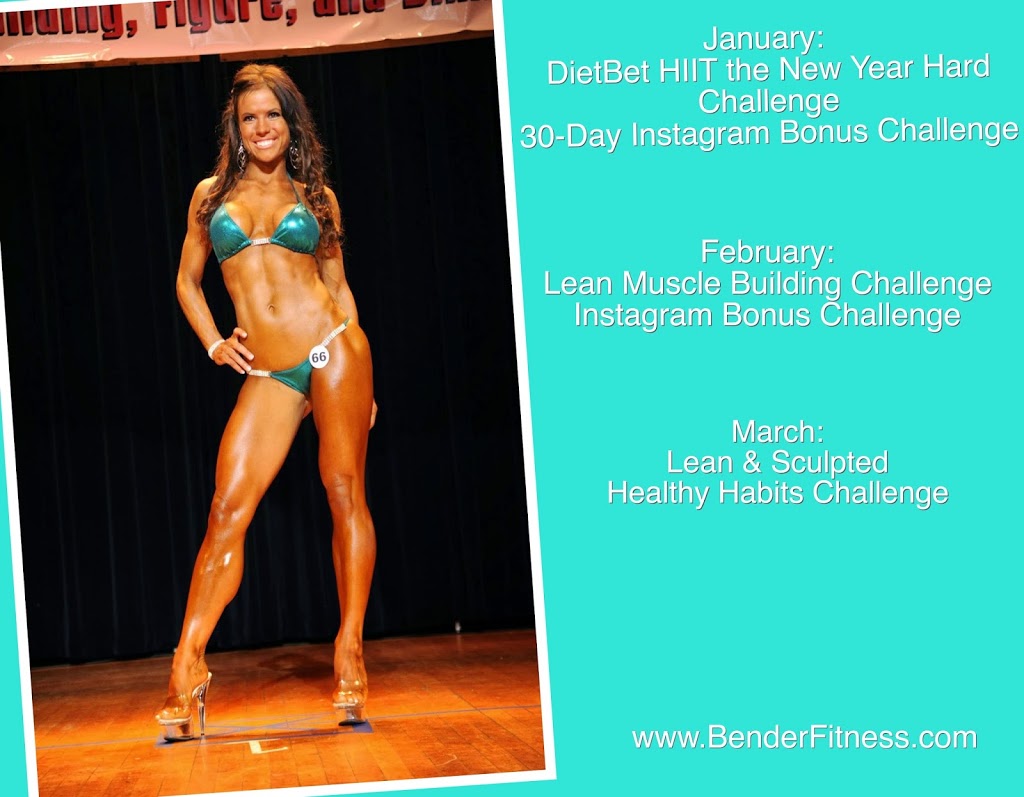 Hi Everyone!
A new year is approaching, and for many of us that means fresh motivation to achieve our goals.
My goal for the upcoming year is to be Healthy, Happy & Consistent. I believe that Health and Fitness make all aspects of life better, and I want to help more people achieve the goal of living a Healthy & Happy Lifestyle.
How do you get from goals to results? You make a plan!
I am starting the year with 3 challenges. If you follow all three challenges you will be participating in a 12 week program. I will be posting brand new workouts through the duration of the challenge.
January:
-Plus Bonus Instagram Daily Workout Move Challenge. You can find me on Instagram: @BenderFitness
This month's focus is on losing fat, while maintaining lean muscle with a HIIT workout program. You have a chance to win money while losing weight by participating in the DietBet Challenge. The goal is to lose 4% of your body weight over the course of 4 weeks. Entry cost is $25 (if you hit your goal you get your $ back, plus some!). All of the winners who sign up at www.dietbet.com/BenderFitness will split the pot. I will be posting (and participating in!) all of the workouts for the month.
During my first DietBet Challenge there was $14,010 in the pot. Participants lost a combined 2,510 pounds.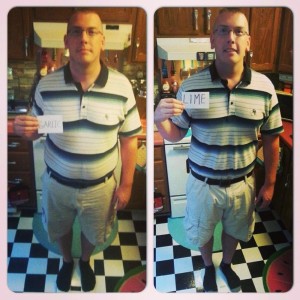 Dave's Results from my first DietBet Challenge
12 pounds lost.
The signs are a way to prevent cheating in the game.
February:
-Lean Muscle Building Challenge
-Plus Bonus Instagram Daily Workout Move Challenge
This month's focus is on sculpting Lean Muscle. Lean Muscle gives your body shape, improves your metabolism, and improves your overall health and fitness. Weight loss alone will not give you the results you want. Sculpting lean muscle will help you achieve a toned and fit look, while improving your strength and level of fitness.
Grab some dumbbells! You will need them this month!
March:
-Lean & Sculpted: Healthy Habits Challenge
The focus this month is on continuing your workouts, and creating Healthy Habits to help you keep & continue to achieve the results you have worked so hard for. Health and Fitness isn't just participating in a challenge. It's about creating sustainable changes.
I hope you join me in welcoming the new year with a focus on fitness, health and happiness! Plus 3-Months of New Workouts!
Melissa
*Disclaimer: For hosting my Diet Bet Challenge I do get a portion of the jackpot. I always want to keep this site and my workouts free because I believe that everyone has the right to be healthy. That will never change. I want to make some upgrades to the website, our camera, and help offset some of the costs of running a blog. Participating in paid opportunities helps me to do that. I will never share or promote a product that I don't believe in and/or use personally.