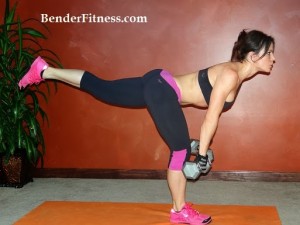 Hi Everyone!
I am playing catch-up to get the newest workouts posted again! I have worked overtime for the last three weeks, and I missed a few workouts due to complete exhaustion. This is an oldie, but I have two new workouts to share. I will get one of them posted today, and the second one posted tomorrow. 
  Today's workout is focused on building strength and definition to the arms and lower body. One round took me about 12 minutes. I followed it up with jump roping.  I did 500 jumps over my jump rope, which took between 3-4 minutes. 
This workout can be repeated if you want a longer, more intense workout. 
I used two 20 lb dumbbells, and my barbell is 75 lbs. Choose a weight that is challenging for you, and focus on using appropriate form. 
I am starting to feel changes in my endurance and energy throughout the day. 
Enjoy the workout!
Melissa
PS Fit Fashion: Workout Pants and Sports Bra are from Affitnity.com, and you can get 15% off your entire order with the code BenderFitness at checkout.
Click the link to get your own Gymboss Interval Timer!

Equipment: Dumbbells and Barbell. 

*Select a weight that challenges you, but you can maintain good form with. If you don't have a barbell, complete the exercises with dumbbells. If you don't have dumbbells you can find something around the house (a gallon of water weights about 8.3 lbs). 
1. Curl (right)
2. Curl (left)
3. Plank Row (right)
4. Plank Row (left)
5. Tricep Extension
6. Squat and Press
7. Deadlift
8. Squat
9. Warrior Deadlift (right)
10. Warrior Deadlift (left)
11. Side Lunge (right)
12. Side Lunge (left)