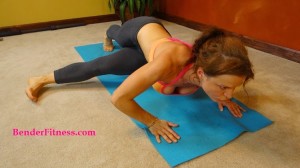 Hi Everyone!
This workout is focused on the core. It should have you working up a sweat, and working the core from every angle. I enjoyed this workout, it was quick, but challenging. 
I do have new workouts to post and share. I apologize for being MIA for a few days. We have a lot of friends in from out of town that we don't normally get to see, Jesse's birthday was Thursday, and I threw a birthday party for him yesterday. 
It has been a lot of fun, but my body misses the workouts. Also, I have been eating a lot of food that I don't normally eat and I am having a food allergy reaction. No fun! My body was craving spinach and chicken this AM. It is clearly telling me to get back on track with a healthier diet. 
I am going to have to pin point exactly what food I am allergic to, so I am going to have a few weeks of a fairly strict diet, with slow re-introduction of some foods. I believe the culprit is lactose, but I want to be sure. 
In January I am starting a new challenge, and my very first Bender Fitness Ambassador will be sharing her story of working through one of my challenges. 
My cat, Gambit, made a guest appearance in this video. He loves when we work out. I had Jesse doing some foam rolling and as you can see in the picture below Gambit made himself comfortable. 🙂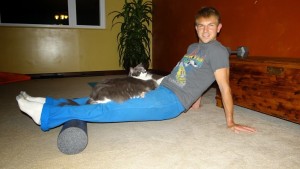 I hope that you enjoy the workout!
Melissa
Facebook, Instagram, or Twitter. 
Click the link to get your own Gymboss Interval Timer!
Beginner: 10 reps, 30 seconds
Intermediate: 15 reps, 45 seconds
Advanced: 20 reps, 60 seconds

Repeat 1-3X

1. Plank Toe Tap
2. Curved Hip Lift (timed)
3. Reverse Plank Leg Lift
4. Curved Hip Lift (timed)
5. Knee to Nose Plank (right)
6. Curved Hip Lift (timed)
7. Knee to Nose Plank (left)
8. Curved Hip Lift (timed)
9. Cross Plank Pushup
10. Curved Hip Lift (timed)