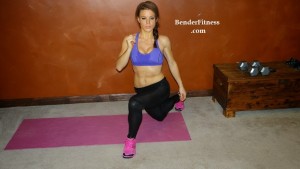 Hi Everyone!
It's a HIIT day! 🙂
I love interval training, and this full body routine was fun. I was still tired from teaching a boot camp class the other night, but it felt great to get myself moving.
I hope you all enjoy this routine. If you're up for it repeat it 2-3 times.
Have fun!
Melissa
Max reps during each 50 second interval, 10 seconds of rest between exercises.

1. High Knees
2. Spiderman Push-ups
3. Russians
4. Warrior Deadlift (right)
5. Warrior Deadlift (left)
6. Mountain Climbers
7. Temple Tap Abs
8. Frog Hopper
9. Curtsy Lunge Kick (right)
10. Curtsy Lunge Kick (left)
11. Burpee
12. Heel Tap Plank
13. Plank Pop-Up
14. Plie Squat
15. High Knees